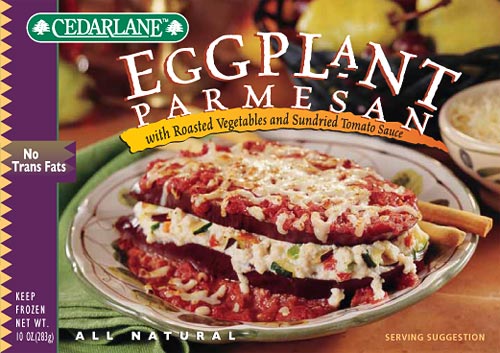 Cedarlane had generously sent me some products of theirs to try, including the Eggplant Parmesan.
Well, after heating  up this dish in the microwave, the picture on the box didn't really not depict what I had. The box shows 2 long slices of eggplant with cheese and veggies. What I got (I didn't have my camera so I couldn't take a picture of it! ) was about 5 or 6 circular pieces of eggplant all mooshed together with some cheese and scrambled veggies. But I'm not one to judge on looks, so I dug in.
The eggplant was very soft, and "buttery"tasting. There is also a LOT of eggplant, and I didn't see any breadcrumbs like the ingredients say there are, but perhaps it was just mixed up with all the cheese and veggies. I really liked the "seeded" part of the eggplant-it has a little bit more of a bite and more flavor to it compared to the rest. There definitely is a strong tomato flavor here, probably from the sundried tomato sauce. There also is pa-lenty of cheese in this dish. It was gooey and stringy and it was how cheese is supposed to be 🙂 . I also liked the parmesan cheese flavor that came through with the veggies.
Overall, this dish wasn't bad. I think it kind of tasted a little like frozen pizza, actually. I do, however, almost wish that it had less eggplant and they paired the eggplant parmesan with another side dish. It was also a bit too salty for me. It is, however, an excellent way to get some vegetables into your day.  This meal is getting a 3 1/2 star for me, 4 star if you like eggplant parmesan.
Eggplant, Organic Crushed Whole Tomatoes, Organic Tomato Puree, Onion, Rennetless Mozzarella Cheese, Rennetless Ricotta Cheese, Bread Crumbs (wheat flour, water, barley malt, salt), Organic Zucchini, Sundried Tomatoes, Organic green bell Pepper, Rennetless Parmesan Cheese, Organic Red Bell Pepper, Carrots, Wildflower Honey, Olive Oil, Herbs and Spices, Sea Salt.