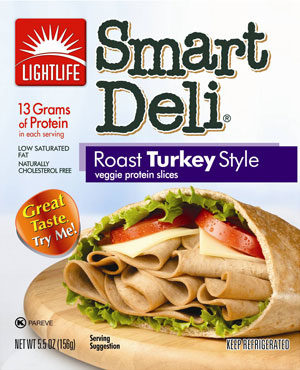 So with Thanksgiving (gobble gobble!) rounding the corner, i figured I would do a whole bunch of Thanksgiving-related posts.
Here we have a "turkey" to review. I consider myself a "somewhat" vegetarian. I really don't eat meat or fish- only if I go to a party or some other celebration and I don't want  to make a fuss. However, when i do eat meat, i don't eat beef or porc products. So, Thanksgiving is pretty much the only time of year i eat Turkey. So, I was rather curious when I saw Smart Deli Roast Turkey in stores by me. It is a fat free lunch meat alternative,  made with veggie and soy protein. Normally I'm skeptical of these products- I've tried a "ground beef" version once and had a rather, icky, experience. Too gummy, weird taste, you get the deal. However, I thought I would give this "deli meat" a shot- I mean why not? I was craving some turkey, and Thanksgiving was still a few days away…
The Roast Turkey is cholesterol free, without MSG, nitrates, and other fillers in standard cold cuts. It was round in shape, sort of like bolongna cold cuts, and had a brown/tan color. It smelt mildy spicy/peppery as I opened the package. I took a bite and….to my surprise, it was good! "Yum" was actually the first word that popped into my head. It tasted like TURKEY! How they do this, I'll never know, but it was certainly yummy. It wasn't too salty either, and had a nice spiced flavor with some onion and garlic mixed in. The consistency was also the same as cold cuts, not gummy or chewy, but pretty much the same as a slice you'd get from the deli counter. I even fooled my mom with this product asking her if she liked "the new turkey flavor that the store carried". She said it was good and she would like it with a slice of cheese on a sandwich- but she didn't know it wasn't Turkey!
Overall, I give this 4 stars. I had a serving after a rigorous kickboxing class and it held me over until lunch with the yummy protein it provided. I think it was good by itself, but would be awesome on a sandwich, on some crackers, or maybe even rolled up hot with some all natural gravy. Yum! I'm interested in trying more of the deli selections by LightLife since the Turkey flavor was a hit. Perhaps you can save a turkey this year ? 🙂
So bloggies- have you had any good or (gross!) experiences with "meat alternatives"? Any brands you reccommend/hate? Let me know here!
4 slices is 100 calories, 3.5 grams of fat, 5 grams of carbohydrates, 2 grams of fiber and 13 grams of protein. There are 300 mg (13%) per 4 slices, which isn't too shabby, either.
WATER, WHEAT GLUTEN, SOYBEAN OIL, SOY PROTEIN ISOLATE, SOY SAUCE (WATER, SOYBEANS, WHEAT, SALT), NAVY BEAN FLOUR, LESS THAN 2% OF: TOFU POWDER (DEHULLED SOYBEANS, CALCIUM SULFATE), RICE BRAN, AUTOLYZED YEAST EXTRACT, NATURAL FLAVOR (FROM PLANT SOURCES), SALT, CARRAGEENAN, WHEAT STARCH, CALCIUM LACTATE, ONION POWDER, GARLIC POWDER, SEA SALT, CITRIC ACID.