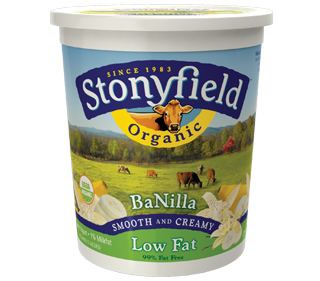 Stonyfield Farm, as you all should know, makes dozens of products ranging from organic/all natural yogurts, frozen desserts and smoothies. They all benefit the earth and are made using only nature's finest ingredients. I personally love their yogurt, and I've passed by the Banilla flavored yogurt way too many times in the store, simply because it was in the 32 oz. cup instead of the individual cups. For conveinence, of course, I usually only buy the individual 6 oz. cups, plus it is easy portion control. However, I decided I was in the mood for a new flavor of yogurt, and Stonyfield has never let me down before, so I decided to give Banilla a try.
So i took home the 32 oz. "cup" of yogurt and took out a spoon from my cupboard. I took a scoop and instantly fell in love. My taste-buds rejoiced upon tasting this yogurt. THIS WAS MY NEW FAVORITE FLAVOR! I was actually, to be honest, a little mad at myself for not buying it any sooner just because it was in the 32 oz. size instead of the 6 oz.
It was very creamy, not runny at all, and had a real banana flavor. Not that "artificial banana" flavor that you get when you buy candy like Laffy Taffy or something of the sort. But it really tasted like vanilla yogurt blended with banana puree. It was sweet, but not too sweet, and was just perfect. Definietely worth 5 stars! I've had it multiple times already, and my favorite concoctions [so far] are
1. Banilla Yogurt, Trader Joe's Chocolate Toucan cookies, sliced bananas, and a squirt of whipped cream.
2.Banilla Yogurt, Kashi Go Lean Crunch Cereal, sliced bananas, and some organic chocolate syrup.
3.Banilla Yogurt, Kashi Honey Puffs and a Kashi Dark Chocolate cookie.
1 cup is 200 calories, 2.5 grams of fat, 35 carbohydrates, 0 grams of fiber, 9 grams of protein and 35% daily value of calcium + tons of probiotics!