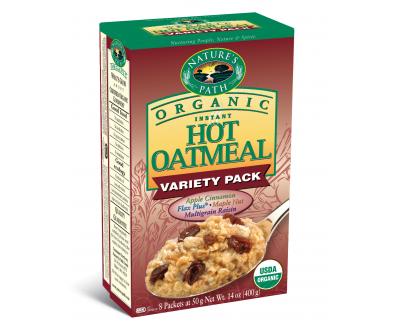 Ohhh how I lovee oatmeal. It really is the perfect breakfast food- you can play it up any way you want. Add fruit, peanut butter, yogurt, milk, maple syrup, chocolate chips… Or, even plain jane style with a pat of all natural butter and a sprinkle of sugar on top. It really warms and fills you up and gives you plenty of energy.
But- what about those days you just don't have time to cook good ol' Quaker over the stove top? That's usually where Instant oatmeal comes in. Boil some water, pour, stir, enjoy. Or, for those of you who don't have ANY time to spare (or you lazy-bones out there 😛 ), the microwave helps. However, usually instant oatmeal leaves me unsatisfied. The portion is tiny, the sugar content is high, and it's just not as good.
So that's why I was excited to try the Instant Hot Oatmeal from Nature's Path. I love Nature's Path and have done several reviews of their products- all of them with positive results. They are a brand I know I can trust to bring me delicious and nutritious foods that will sustain me and my grumbling tummy 🙂
Nature's Path oatmeal comes in several varieties, but I tried the Maple Nut, Apple Cinnamon and Multigrain Raisin Spice that comes in the variety pack. It also comes in Flax Plus, but I have yet to try that flavor. What I was first happy about was that each packet has more than traditional oatmeal packets have. The Nature's Path brand provides 50g of oatmeal as compared to 30g that I normally see. You can tell it gives you more too when you pour it in the bowl- a nice change.
Maple Nut– first off, this oen smelled awesome. You could literally smell the maple syrup through the packet, and I looooove Maple Syrup! When I poured the water the sweet maple smell also came through even stronger. I couldn't wait to dig in 🙂 There was also actual pieces of hazel nuts in the oatmeal. Not too many, but it added an unexpected bit of flavor. It was the right amount of sweetness-not too sugary and was actually pretty satisfying given it was instant oatmeal. 4 stars
Apple Cinnamon- Growing up, Quaker Apple Cinnamon was always my favorite flavor. I just loooved the little bits of apples (and would often eat them all before my mom even poured the hot water in the bowl!). Which is why I was slightly disappointed with this one. There were only a few apple pieces, and it wasn't really that sweet. It was very smooth texture wise though, not as "blobby" as instant can sometimes be. To jazz this one up a bit, I added some raisins and some stevia and it was perfect. All it needed was a little boost 🙂  3 stars
Multigrain-Raisin Spice- I wasn't sure I was going to like this one. It wasn't just oats after all- it was wheat flakes, raisins, corn meal and oat flakes all together. But I gave it a shot, and I am glad I did! It was my favorite of the 3, and the sweetest 🙂 I looved the raisins, they were nice, plump and juicy. The oatmeal actually thickens up quite nicely if you let it sit a little bit, and was more hearty than regular oatmeal.  The "crunchy" wheat flakes added some texture as well. It reminded me of an oatmeal cookie in a bowl. Definietly goign to buy this one again and again. 5 stars
Overall, a pleasant experience with Nature's Path Instant Hot Oatmeal. I'll give it 4 stars all together. They provide you with a little more sustenance than traditional instant oatmeal, and are really good paired with some toast & peanut butter or jam, some fruit, or both for a nutritious breakfast (or pre-workout meal like I did!!). I want to try more of their flavors, like the Optimum Brand in Cranberry Ginger. Yum!
Maple Nut & Apple Cinnamon- 1 packet is 210 calories, 2.5-4 grams of fat, 38-40 carbohydrates, 4 grams of fiber, 5 grams of protein.
Multigrain-Raisin Spice- 1 packet is 180 calories, 1 gram of fat, 39 carbohydrates, 4 grams of fiber, 4 grams of protein.
Maple Nut-Organic rolled oats, organic evaporated cane juice, organic hazelnuts, natural flavor, sea salt.
Apple Cinnamon-Organic rolled oats, organic evaporated cane juice, organic dried apple, organic cinnamon, sea salt, natural flavor.
Multi-grain Raisin Spice-Organic rolled oats, organic wheat flakes, organic evaporated cane juice, organic raisins (coated with organic sunflower oil), organic brown rice flour, organic corn meal, organic cinnamon, sea salt.
Hey you know what goes good with oatmeal? APPLESAUCE! enter this giveaway now!!
Also- how do you like your oatmeal? rolled oats? Instant? What's your favorite brand!?