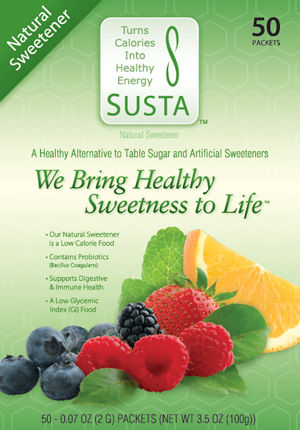 Whooooooo likes sugar? ( I do ! I do!)
But, whooooo likes all the calories sugar contains and how ADDICTIVE it is, making us crave MORE?
That's what I thought. 🙂
So where to turn? Should I forget sugar all together? As in no more brownies? or cupcakes? No. Moderation is key. Everyone needs a lil suggah 🙂
Or, Should  I try artificial sweeteners? I would try to limit those too…
Luckily for you, I found a pretty good answer. Aside from Stevia all natural sweetener, I found a product that is sweet, low in calories, and actually has some health benefits. NXT Nutritionals manufactures a sweetener called Susta, and claims it is "A Healthy Alternative to Table Sugar and Artificial Sweeteners".
This particular sweetener combines soluble fiber (prebiotics) and probiotics(like the ones found in yogurt), has added essential nutrients and vitamins, is all natural, and has a low Glycemic Index (so no harsh blood sugar spikes!). Each packet is also only 5 calories per serving.
Each packet provides an ample amount of a fine, white powder, not really granulated per se, but more refined. It has a nice, sweet flavor, very similar to sucrose or table sugar. It also doesn't have a nasty aftertaste like Splenda, Aspartame or even Stevia can have some times (sorry, Stevia- I still love you!). I found it works best in foods as a sweetener, and not liquids. I added a packet to oatmeal, and it really pumped up the flavor. I also sprinkled it on banana slices (which wasn't "ripe" enough, or sweet enough, for my liking), and it added a nice, mellow sweetness. Nothing too overpowering- but just right. Which is why the flavor was a bit lost when I added it to my tea- it was too mellow and dissolved quickly- so I will stick to sweetning foods with these packets.
Overall, I like these packets. I give them 4 stars, because it really is a healthier alternative to table sugar, and has the added benefit of probiotics, fiber, and added nutrients. Good job, NXT Nutritionals!
Want to try this for yourself? Go to the website & order a box, and I got a special code for ya to get $1.00 off  a box until April 30th 2010!
Just enter the code SUSTAXO  and get &1.00 off! sweet 8) !
1 packet is 5 calories, 0 grams of fat, 2 grams of carbs, 1 gram of fiber, and 0 grams of protein. You also get 10% Vitamin C, 5% of Vitamin B6, Folic Acid, Vitamin B12 and Biotin, and 3% of your daily value of Niacin, Selenium and Chromium. How's that for sweeeet! 😉
Inulin, Fructose, Natural Flavors, Probiotic (Bacillus Coagulans), Vitamin C (ascorbic acid), Cinnamon Extract, Goji Berry Extract, Bitter Melon Extract, Grape Seed Extract, Vitamin B6, Niacinamide, Biotic, Folic Acid, Chromium, Selenium, Vitamin B12.