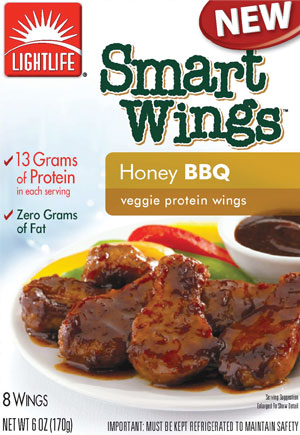 I feel this is an appropriate review, especially with football season coming to an end and the SUPERBOWL coming into play. Plus, who doesn't like saucy, honey, barbe-quey anything ? 😀
And so, scanning the natural section at my local grocery store, I saw LightLife Smart Wings in Honey BBQ and Buffalo flavor. I'm a sweet kinda girl, not so much spicy, so I picked up the Honey BBQ flavor with the coupon LightLife sent me.
Each box of these veggie protein wings comes with 8 wings, or two servings. They are so cute too- shaped like actual chicken wings! But, no chicken here. These are totally vegetarian (they do contain egg white, however, for those of you who are vegan). I made these both ways as suggested, Microwave & in the frying pan. I suggest the Frying Pan, as LightLife does too. Done in the microwave, the veggie wing came out a bit chewier than when I used the frying pan to heat these babies up.
Now, onto the TASTE!
These are freakin' delicious! They really are finger lickin' good. They are covered in a sweet, barbeque sauce, which had hints of molasses, honey and a garlicy tomato flavor. I was literally licking the sauce off the packet it came in- so tasty! They were a wee bit salty, but still very good. Some of you may be worried about the texture– as veggie products can be chewy or..weird.. in texture. But not the case here- these wings do have a bite to them, but are chewy like a burger. Chewy in a good way if you will- they have the appropriate consistency.
I had these with some Annie's Organic Macaroni & Cheese & broccoli (and some chocolate milk-not shown), and I was full all the way until snack time. They pack in protein and fiber, and are very satisfying. You could even have them as a snack with some raw veggies on the side, as they don't need any extra dip. They are the 3 S's- Sweet, Salty & Savory. And surprisingly-NO FAT!! (take THAT Pizza Hut!!) I give these 4 1/2 stars!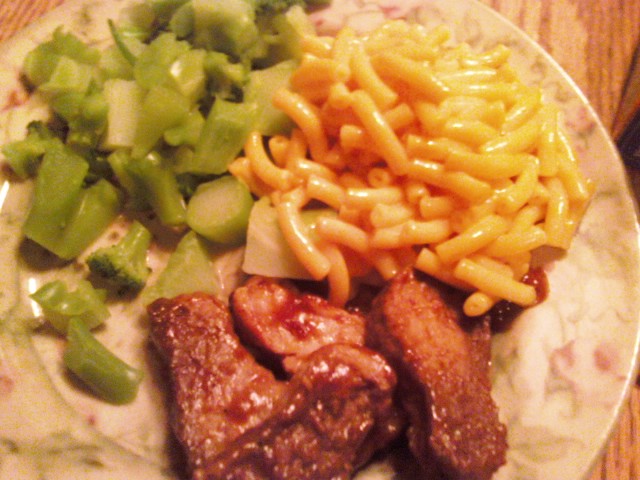 *I know your drooling… 🙂 !*
1 serving (4 wings) is 120 calories, 0 grams of fat, 16 grams of carbohydrates, 4 grams of fiber, and 13 grams of protein.
Wing: Water, Soy Protein Concentrate, Wheat Fluten, Soy Protein Isolate, Egg White Powder, Less than 2% of: Cellulose Gum, Yeast Extract, Natural Flavor, Sea Salt, Onion Powder, Dried Garlic, Potato Starch, Sunflower Oil, Salt.
Honey BBQ Sauce- Tomato Puree (water, tomato paste), Molasses, Evaporated Cane Juice, Distilled Vinegar, Worcestershire Sauce (distilled vinegar, molasses, sea salt, sugar, spices, tamarind), Corn Starch, Honey, Sea Salt, Natural Flavor, Spices, Dried Garlic, Xanthan Gum, Dried Onioon.