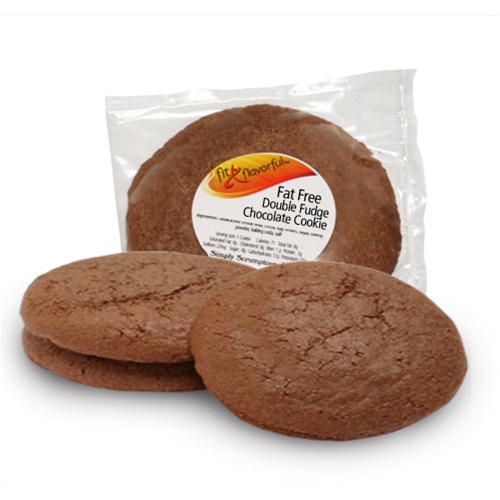 Simply Scrumptous (yes, spelled without the "i"), makes delicious, gourmet cookies & brownies. They use only all natural ingredients, with not a single preservative or additive. They make giant cookie cakes, muffins, brownies & cookies, all with a rich and truly decadent taste. They also have a Fit & Flavorful line for those of us who don't have any extra wiggle room in our diets for sweets, or for those of us who are just health conscious. The Fit & Flavorful line provides fat free (yes, FAT FREE!) cookies, cupcakes, muffins, donuts, and carrot cake. They are all natural, low calorie and individually wrapped (yay portion control!).
I know what your thinking… fat free? low calorie? all natural? "these gotta taste like cardboard…"
NOPE! I was skeptical at first too..fat free products are normally nasty in place of the real deal. But these products are GOOD! Today, I'm going to review the cookies. And boy, were they a pleasure to eat 😀
Each cookie is actually pretty big, approximately 3 inches in diameter, and have the normal thickness of a homemade cookie. They come in 4 flavors, and all have such a unique consistency- crisp on the outside, and very soft and moist on the inside. It rocks! It's like getting the best of both worlds- soft & crunchy cookie! In order from my favorite to least favorite, here are the 4 cookies…
Super Snickerdoodle- wow. Literally in love when I bit this cookie. It's SUPER soft and almost has that fresh baked gooey/yummy consistency in the center. It's also covered in cinnamon, and has a sweet cinnamon sugar taste, with just a hint of vanilla. I can't believe it's fat free- it's soooo delicious!! This one gets 5 stars for taste.
Ooh La-La Oatmeal Raisin– ohh goodness. This one's amazing too. There are TONS of raisins in it too- no scrimping here! It was also sweet and similar in taste with the snickerdoodle- it has a vanilla/sugar cookie taste. The raisins were perfect in the cookie-made the cookies extra chewy and soft. Yum. This one also gets 5 stars for taste 😀
Double Fudge Chocolate- this one has a strong cocoa powder taste rather than a "Hershey bar" chocolate taste. It's still very good- and I don't think it's as sweet as the other ones. It does remind me of eating fudge-  just not as dense. It was really good with some peanut butter smeared on it. (But, when is PB& chocolate ever a bad combination?? 🙂  ) This one gets 4 stars for taste.
Sensational Sugar- I tried 2 of these, and had 2 different experiences. One was okay and not that sweet, but soft, and the other was really good, sweeter, and harder/crispier. The sugar is my least favorite of the 4, I feel like it was missing something, and surprisingly, despite the name, wasn't as sweet as the others. It was still a good cookie, but just needed a little more oomph. This one gets 3 1/2 stars for taste.
Simply Scrumptous- you make excellent, mouth watering cookies, all fat free and under 100 calories. (Can you please make a PEANUT BUTTER flavor!?! 😀 😀 😀 ) The only thing keeping me from eating this ALL DAY LONG (and I've already had the sugar one with my breakfast, the snickerdoodle flavor for a snack…) is that they are made with Unbleached Flour, and use refined sugar. If they were whole wheat- or even partially whole wheat- and used  a less refined sugar like molasses or honey, these cookies would be 5 stars for sure! I do think that using refined sugar might play into the awesome texture of the cookies, as sugar often alters the consistency of baked goods a lot. However, taking nutrition, taste and calorie count into effect, I'm giving them an overall rating of 4  stars. They really are yummy and decently sized. Perfect swap for your standard cookies anyday. Check them out here! Also, get 35% off your first order using the code HNXO!