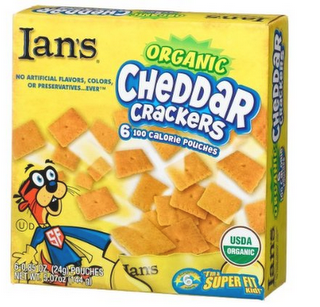 Polly want a cracker?
Maybe not, but I do!
We all love crackers! With cheese, jelly, peanut butter, or even straight out of the box. Crackers are a perfect munchy, salty snack. A lot of them, however, are packed with hidden hydrogenated oils, sodium and artificial flavors and colors. THANKS, but I prefer my crackers au naturale.
So, I got to try some delicious cheddar and wheat crackers provided by Ian's Natural Foods that are organic & quite tasty.The crackers are about the size of your standard Cheez-it, and are square in shape. Each variety comes with conveinent 100 calorie packs, with about 15-20 crackers in each pouch. There is actually a decent amount of crackers in each pouch, and I was satisfied with the portion given. Normally with 100 calorie packs, the calories may be low, but so is the nutrition and the amount of product you get. (Has anyone had the "100 calorie pack Mini Muffin" variety? HELLO- you get like, TWO muffins! What is THAT!? )
Anyway (rant over)-
Onto the tasting…
Cheddar- Yummmy! Forget Cheez-its– these are going to be my new cheesy cracker in my closet! They had a nice cheddar cheese flavor to it, and while they were a bit salty, they definitely satisfied. They are very crunchy and actually quite addictive. Although satisfied with 1 bag, I totally ate 2 in one serving (whhhhat! They were delicious! 😉 )
Wheat- Oooh. These are also good. They reminded me of a nuttier wheat thin. Slightly salty, and had a slight buttery taste to them. These were great as is, and also with some Laughing Cow Cheese spread on top, and as mini PB&J "sandwiches" (but when do you ever go wrong with peanut butter & jelly?) I also liked how they were made with some whole wheat flour as well.
Overall, these get 4 stars. Perfect for snacking and for on the go. I preferred the cheddar to the wheat, but both are quite tasty. I also love how the ingredients are organic and healthier than other cracker snacks. Plus, the box is 100% recycled paperboard- eco friendly too. Gooooo Ian's!
1 serving (1 pouch) is 100 calories, 2-3.5 grams of fat, 15-18 carbohydrates, 1-2 grams of fiber, and 2 grams of protein.
Cheddar- Organic Wheat Flour, Organic Oils (safflower and/or palm fruit oils), Organic Cheddar Cheese [(organic cultured pasteurized milk, salt, enzymes), Organic Nonfat Milk, Organic Whey, Salt, Disodium Phosphate], Salt, Organic Evaporated Cane Juice, Leavining (monocalcium phosphate, baking soda, ammonium bicarbonate), Natural Annatto, Yeast.
Wheat- Organic Wheat Flour, Organic Whole Wheat Flour, Organic Oils (safflower and/or palm fruit oils), Organic Evaporated Cane Juice, Salt, Organic Malt Extract, Leavining (baking soda, ammonium bicarbonate), organic paprika, natural annatto.