Who likes cinnamon buns? I do! I do! 😀
But they really should be called sin-namon buns, now shouldn't they? Loaded with refined flours, sugars and fat, a traditional cinnamon bun may be heavenly on your taste  buds, but no so much on your heart.
Enter Dave's Killer Bread. This company managed to make the "Ultimate Sinnamon Roll", making a 100% all natural, organic, whole grain cinnamon roll that still promises taste and satisfaction. It has no animal products, is a good source of fiber, and has 850 mg of Omega-3 per serving.
So it has all the health in the right place, but, what about the taste? Well, that's where I (and some trusty friends) come in. So let's dig in!
When I first got this in the mail, I was a bit taken aback. It was a long, bread roll, almost like a french baguette, but was absolutely COVERED with seeds and rolled oats. In fact, I'm not going to lie, this thing is ugly. Do I really want to eat this? I said to myself. See the close-up picture of a piece below, but this thing was COVERED in the seeds, which gave it an off-putting appearance (in my opinion at least). Honestly, I just don't picture cinnamon bun + seeds/oats together- MAYBE cinnamon bun and chopped pecans- but sunflower, sesame, and pumpkin seeds?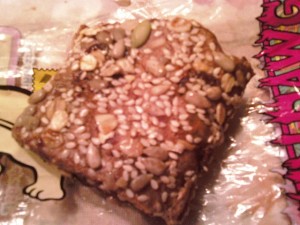 Anyway- despite the appearance, I cut myself a piece. Ooh- now that's what I'm talking about. Once you cut a piece, you see a gooey, cinnamon sugar  filling. I licked a bit of it- yum!! It was sweet, and had a brown sugar taste to it. There were raisins in it too that were nice and plump. So, I decided to take a bite of it as a whole. Ooh- this is good! It was chewy, sweet and had a strong cinnamon flavor. Honestly the seeds don't offer much extra taste to the roll, so I could take 'em or leave 'em. If anything, they help provide protein, fiber and the omega's, so I guess some extra health benefits can't hurt 🙂
The roll suggests cutting it up into "mini" cinnamon rolls, which I also suggest to do (maybe even heat them up slightly?). The drawback to this delicious bread is the small portion size.  I cut myself a piece which I thought was reasonable, and it was 4.1 oz, only to find that ONE portion size was 2 oz. at 200 calories! Yikes! My little cinnamon bun would have been about 400 calories! :O
Overall, I give this a 3 1/2 stars. It definitely is delicious. I also love the fact that there are't any refined sugars, it's organic, whole grain and is a good swap for your ol' friend (*cough *cough* enemy *cough*cough*) Cinnabon, but the portion size is kinda tiny, and the seeds are a bit off-putting. I had to persuade both my brother and my friend to try it after they saw it. But hey- they always say- never judge a book by it's cover! 🙂 
1 serving (2 oz) is 200 calories, 8 grams of fat, 31 carbohydrates, 3 grams of fiber, and 5 grams of protein.
Organic whole wheat flour, organic raisins, water, organic evaporated cane juice, organic canola oil, organic molasses, organic sunflower seeds, organic flaxseed meal, organic sesame seeds, organic whole grain oats, organic wheat gluten, organic cinnamon, yeast, organic pumpkin seeds, salt, organic vanilla extract, organic rice bran extract.