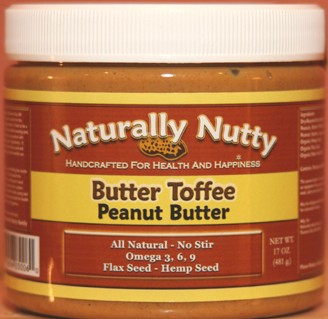 I'm sure everyone on bloggie world has heard of Naturally Nutty! I know I read favorable reviews from my fellow bloggers, so I was super excited when Katie from Naturally Nutty sent me 2 of her jars to try out!
The company was founded by  a vegetarian mother who wanted to create the "ultimate" peanut butter. She now has more than just peanut butter, and adds organic hemp and flax seeds for additional health benefits. They also have a special no stir formula, which creates a rich and creamy texture without the added messy oils. The nut butters come in a variety of flavors, ranging from chocolate cherry peanut butter to cinnamon vanilla sunflower butter! They have flavors to suit the palate of almost anyone's taste buds. And, of course, all of her nut spreads are all natural, made with organic ingredients, and contain no artificial colors or flavors, preservatives, or trans fats. How's that for a nut butter!?
I was fortunate enough to be sent the Butter Toffee and White Chocolate Coconut Peanut Butters, which I was super excited to try. They came in cute (but too small for a nut butter lover like myself 😉 ) jars that were 15 oz each. Obviously, upon arrival I set both my jars down on the table, took out some spoons and things to spread them on, and dug in!
Starting with the Butter Toffee Peanut Butter, it was very creamy in texture. It had a light brown color to it, and when I smelled it, I could smell just a hint of sweetness followed by the yummy peanut smell I have grown to love. There was a little bit of oil on top, but not nearly as much as other brands, so I just gave it a quick stir. The taste was out- of- this– world. This literally is the definition of heavenly dessert in a jar. Seriously-. It had a buttery, sweet flavor, almost like buttery caramel (or toffee, I suppose), with a brown sugar flavor as well. The perfect combo of sweet & salty, it also had a teensy bit of a crunch from the flax seeds and hemp seeds. This flavor gets 5 stars for taste 😀
White Chocolate Coconut- this one was also good, but not as good as the Butter Toffee.  It wasn't as sweet, and had a rather strong coconut flavor, leaving an especially strong coconut aftertaste. I honestly didn't really taste the white chocolate part of the nut butter, perhaps too subtle, but it was rather just a lightly sweetened coconut peanut butter to me. I think I would have liked it better if it was  a bit sweeter, and maybe had just a hint of salt to it to bring out some of the flavors. It was still very good, however, and went especially well on a hearty piece of Whole Grain bread. This one gets  4 stars for taste.
Overall, Naturally Nutty is a brand I think is GREAT! I also like that there is more fiber in these spreads than some flavored nut butters as well.
Have you tried Naturally Nutty? Which one or which ones are you favorite flavors?
Butter Toffee
2 Tablespoon is 180 calories, 13 grams of fat, 10 grams of carbohydrates, 2 grams of fiber, and 7 grams of protein.
U.S.A. Peanuts, Organic Flax Seed, Organic Hemp Seed, Organic Palm Fruit Oil, Butter, Sugar, Salt, Soy Lecithin, Vanilla Powder.
White Chocolate Coconut-
2 Tablespoons is 190 calories, 16 grams of fat, 7 carbohydrates, 3 grams of fiber, and 7 grams of protein.
Dry-Roasted Unsalted U.S.A. Peanuts, Organic Unsweetened Coconut, Organic Cocoa Butter, Organic Powdered Dry Milk, Organic Cane Sugar, Organic Flax Seed, Organic Hemp Seed, Lecithin, Organic Palm Fruit Oil.