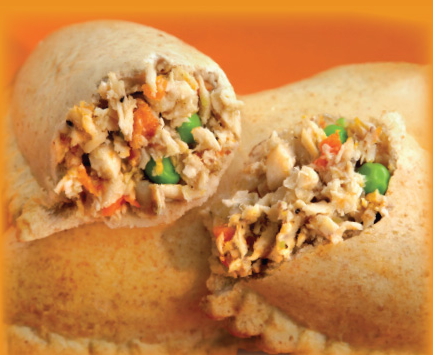 Rico M. Panada is a food company that makes delicious empanadas. What's an empanada you ask? According to the company, an empanada is a "half-moon shaped turnover stuffed with a filling". This company was founded by Ricardo Rezk, who came up with the idea of his empanadas as he saw Americans struggle with their pizza or burger on the subway on the way to work. They needed something delicious, conveinent, but still healthy. Alas! Rico M. Panada's empanadas were born!
These all natural, baked empanadas come in 6 flavors. Beef, Chicken Pot Pie, Black Bean & Beet, Sweet Corn & Cheese, Spinach and Tofu, and Red Beans & Rice.
I was lucky enough to try the Chicken Pot Pie, Spinach & Tofu, and Red Beans and Rice varieties.
I prepared all 3 of them in the microwave first, and then used the toaster over for a few minutes to crisp up the edges like the box suggests. They are all cute crescent moon shaped, plumped with some filling, and have a rigged edge on the crust. They are about the size of a hot dog bun, except fatter where the filling is, and skinnier toward the top.
Red Bean & Rice (VEGETARIAN)- darnit! Some of the filling oozed out of this one all over my plate! ( I didn't mind too much, but I just scooped it up with a spoon and made a mental note to do 30 seconds less than the reccommended cooking time.) This one had mild flavors of tomato and onion, and had soft red beans on the inside. There was a slight cheesey flavor to it as well, which I enjoyed, and there were little peppers that added an unexpected kick. What I really liked was the crust- it tasted doughy and just like a pot pie crust. Yum! Taste- 4 stars
Spinach Tofu (VEGAN)  I liked this one better than the Red Bean & Rice. It had a nice blend of onions (you can DEFinitely see the onions!!), tofu and spinach, with an almost buttery taste to it. The tofu was soft and delicious, and I actually enjoyed the spinach- AND I HATE SPINACH! I also tasted just a wee bit of lemon, which added a nice touch 🙂 Taste- 4 1/2 stars
Chicken Pot Pie- woooooooow. I looooooved this one. Seriously- it was a low-fat chicken pot pie in a cute little crescent moon. The only thing missing was the gooey sauce ( but that wouldn't make good portability now would it?) I will DEFinetely buy this flavor again! The crust was flaky and delicious, and it went soo perfect with my mashed potatoes and applesauce. The chicken resembled canned tuna, it was shredded, was very tasty and soft, and had mild onion, pepper and garlic flavors.There was also some peas and carrots, and these peas were HUGE and plump! It's nice to know they didn't scrimp on the veggies 🙂 This one alone gets 5 stars 😀
Overall, I enjoyed these, and I give them 4  1/2 stars overall. I paired mine with some applesauce (when do I not  pair things with applesauce?) and some veggies for a light meal. You could also eat both with some veggies & another side, and have yourself a nice little dinner. The only thing I didn't like was that only 2 come in a box! What's a hungry girl to do when she AND her very hungry friends want the same flavor? (Well THIS hungry girl isn't sharing, that's for sure! :P) I reccommend trying these- I also want to try the sweet corn & cheese flavor- sounds interesting!!
Spinach Tofu-1 empanada has 150 calories, 4.5 grams of fat, 24 carbohydrates, 3 grams of fiber, and 6 grams of protein.
spinach, onions, water, tofu, organic wheat flour, organic whole wheat flour, canola oil, organic brown rice, garlic, kosher salt, lemon juice, herbs, spices.
Red Bean & Rice-1 empanada has 180 calories, 4.5 grams of fat, 29 carbohydrates, 4 grams of fiber, and 8 grams of protein.
organic wheat and whole wheat flours, red kidney beans, tomato puree, part-skim mozzarella cheese, onions, organic basmati rice, green peppers, canola oil, garlic, kosher salt, herbs and spices
Chicken Pot Pie- 1 empanada has 160 calories, 4 grams of fat, 22 carbohydrates, 2 grams of fiber, and 10 grams of protein.
chicken breast, water, green peas, carrots, organic wheat flour, onions, organic whole wheat flour, canola oil, garlic, kosher salt, eggs, spices, herbs.