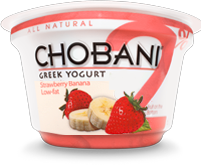 New flavor alert!
One of my favorite companies Chobani sent me an e-mail asking to review one of their new flavors, Strawberry Banana 2% Greek Yogurt, a try. Honestly, HOW could I say no? Being the yogurt lover that I am, and seeing how much I adore Chobani Greek Yogurt, I knew this one HAD to be good. I reviewed some of their yogurts in the past, and loved them! Check them out here.
At first I was a little taken aback- 2%? Is that necessary? Fat Free Greek Yogurt is already super creamy- How can it get any better??
It can. Trust me it can. 😀
For those of you unfamiliar with Greek Yogurt, it has double the protein of regular yogurt, and is super creamy (think sour cream consistency). This particular Chobs has no artificial colors, flavors, high fructose corn syrup (YUCK!), is all natural, has probiotics, is gluten free and vegetarian (no gelatin!)
Moving on,
The Strawberry Banana 2% is amazing! I actually LOVED the addition of real cream as one of the ingredients along with milk- it really made a difference and brought such a dessert-like consistency and flavor to the yogurt. It was super creamy, with a few itty bitty strawberry chunks in it. The flavor was rockin' too. A nice blend of strawberry AND banana (yes, both!). Neither were more overpowering- which I often find happens when you get mixed fruit yogurts. You taste one flavor predominantly over the other, and the company might as well not have bothered mixing the flavors together to begin with. Not the case here- the strawberry flavor was real and so was the banana. I hate the "fake" tasting banana (think- LAFFY TAFFY), but this tasted like actualy bananas were pureed and put in the yogurt. By itself, it's not too sweet, just right in my opinion, and was certainly satisfying.
I had this new Chobani with sliced strawberries, dark chocolate almond granola (courtesy of Cascadian Farm), a drizzle of dark chocolate dreams (courtesy of PB&CO), and a sploosh of whipped cream. Ahh, what a DECADENT breakfast it was.
Overall, I give this flavor 4  stars. It was delicious, and certainly fed the hungry monster I like to call my stomach (grr that bottomless pit!). I also like that there was no HFCS or refined sugar commonly found in yogurts (and no artificial sweetners!) The only thing I DIDN'T like was that it had 2 grams of saturated fat per cup. 160 calories is quite high to spend on a cup of yogurt for someone who likes to add lots of mixins (cereal! fruit! peanut butter!). However, my stomach and my taste buds were satisfied ALL morning 🙂
What's your favorite Chobani Flavor? Let me know which one's to try!!
1 cup is 160 calories, 3 grams of fat, 19 carbohydrates, 1 gram of fiber, and 14 grams of protein.
Cultured Pasteurized Nonfat Milk, Evaporated Cane Juice, Strawberries, Bananas, Natural Flavors, Locust Bean Gum, Pectin, Fruit and Vegetable Juice (for color).