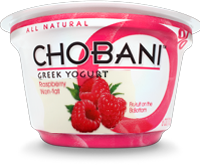 Let's start off this post with a wow.
I just reviewed Chobani's new strawberry banana greek yogurt, and thought it was quite tasty. So, I figured, why not also try the 0% raspberry flavor (which Chobani just happened to send me 😛 ) ?
I am happy to say, I have one of my new favorite flavors of yogurt!
This raspberry Chobani was, in a word, perfect. It gave me the sense that I was getting a fruit serving in with my yogurt- as in the flavor was REAL. Real raspberry flavor, no artificial flavors or dyes, and there were actual little bits and seeds dispersed thoughout the yogurt. The yogurt was a paleish pink (even without stirring), so you could tell it was bursting with flavor. Unlike the other fruit on the bottoms (peach, strawberry and bluberry), I found this Chobani was more like the strawberry banana flavor, and had the fruit dispersed and blended throughout, rather than the bulk of it on the bottom. It was sweet, but not overpowering at all. Of course, it was super creamy, but also refreshing. It was so nice to have a refreshing yogurt.  I almost wanted to have a glass of lemonade, grab my sunscreen/sunglasses and  hit the beach with this yogurt! (But, sadly, it was 7am and still a bit too nippy outside to break out the bikini). So, instead of that plan, I whipped out the last of my Cascadian Farm Dark Chocolate Almond granola and some fresh berries (with of course, a sploosh of whipped cream!) and I had yet another decadent, delicious and dessert-worthy breakfast (it really is the most important meal of the day, isn't it? 🙂 )
Overall, this Raspberry Chobani deserves 5 stars. It really is one of the best greek yogurts I have had. Surprising to me, because I'm not a *huge* raspberry fan- I often think they are a bit bitter and I prefer juicy strawberries or apples (Chobani- come out with an apple flavor- please!!). But definietely try this yogurt!
1 yogurt is 140 calories, 0 grams of fat, 22 carbohydrates, 1 gram of fiber, and 14 grams of protein.
Cultured Pasteurized Nonfat Milk, Evaporated Cane Juice, Raspberries, Natural Flavor, Locust Bean Gum, Pectin, Fruit and Vegetable Juice.