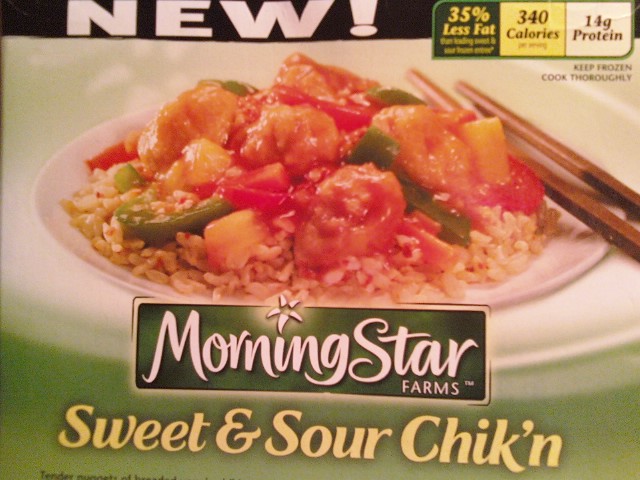 Break out the ChopSticks, but DON'T pick up the phone to order Chinese take-out!!
I found a new meal that whoops traditional fast food "sweet & sour chicken's" BUTT! 🙂
Morning Star Farms Sweet & Sour Chik'n is a veggie entree with chik'n nuggets, peppers, carrots and pineapple chunks all slathered in a sweet and tangy sauce, over a bed of whole grain brown rice.I know your drooling by now. I certainly was when I read the box at my supermarket- I just had to try it!
So after a nice bike ride on this beautiful 80 degree day, my muscles were tired and my stomach was hungry. I decided to pop this entree in the microwave, along with some steamed broccoli for extra veggies. I transfered the entree to a plate, and was surprised to see how much actually came out! This was a NICE sized dinner- no skimpy portions here! I probably didn't even need the side of broccoli, but I'll never turn down extra veggies 8)
Onto each component of the meal…
The Chik'n- the chik'n was wrapped in a soft and doughy tempura batter, that I actually enjoyed. It was a little mushy due to the sauce, but tasty nonetheless. The actual "meat" part had the same consistency of chicken, and was similar in taste. When isolated, I could definietely taste a combination of soy and chicken flavors, but when eated with the tempura batter and the sauce- you would never be able to tell it's not real chicken! I also liked that these were big CHUNKS of chik'n. I got about 4-5 chunks in my entree (see pic below after I took a bite! 😉 )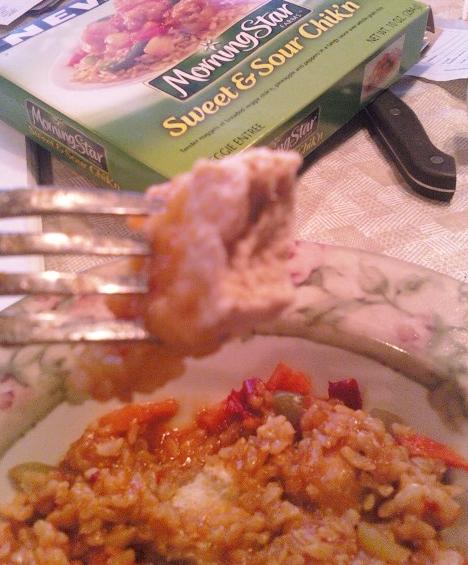 The Sauce- TOTALLY makes the meal. It's SO sweet (maybe even a tad bit too sweet- drink water with this meal), but I liked the sweetness, as it balanced the tang out nicely. There is a very strong pineapple/ketchup flavor, that blends nicely. There is also a TON of sauce- every component of this meal gets covered, no naked veggies or rice ! 🙂
The Veggies/Rice- this meal has primarily carrots, red, green & yellow peppers, and pineapple. The peppers and carrots were soft and tender, and went nicely with the meal. I loved the warm pineapple chunks- deeelish! Warm pineapple never fails, and it was juicy & sweet!  The rice was a tad bit chewy, but was actually quite good.
 Overall, don't like the "chik'n" part of this meal scare you meat lovers (or veggie protein haters >:( ) away! This meal ROCKS! I give it 4 1/2 stars. It was filling, low in fat, and WAY better than Chinese Food. It was also relatively low in sodium for a frozen entree (550 mg, 23% daily values). The only reason this meal loses half a star is because there is only 4 grams of fiber ( I prefer my dinners to have at least a little more!), refined sugar (oh, man!), and contains some funky modified ingredients, like modified vegetable gum and modifed corn starch- "natural" per se, but not straight from the garden if you catch my drift.
Otherwise- this meal was carton-lickin' GOOD!  You can bet all the sauce was GONE, and every morsel was eaten!! 🙂
1 entree is 340 calories, 6 grams of fat, 56 carbohydrates (12 sugars), 4 grams of fiber and 14 grams of protein.
WATER, TEMPURA VEGGIE CHIK'N NUGGETS (CHIK'N [WATER, SOY PROTEIN, WHEAT GLUTEN, NATURAL FLAVORS, POTATO STARCH, CANOLA OIL AND/OR SAFFLOWER OIL, PEA PROTEIN, MODIFIED VEGETABLE GUM, CARROT FIBER, BEET ROOT FIBER, EVAPORATED CANE JUICE, YEAST EXTRACT, SEA SALT], BATTER [WHEAT FLOUR, MODIFIED CORN STARCH, SALT, CORN FLOUR, YELLOW CORN MEAL, SUGAR, SODIUM ACID PYROPHOSPHATE, SODIUM BICARBONATE, GUAR GUM, SPICE, SUNFLOWER OIL, CALCIUM SILICATE], BREADING [OAT BRAN, WHEAT FLOUR, CORN FLOUR, SALT, SUGAR, SUNFLOWER SEED OIL, CALCIUM SILICATE]), BROWN RICE, RED BELL PEPPERS, GREEN BELL PEPPERS, WHITE VINEGAR (WHITE VINEGAR AND WATER), PINEAPPLE (PINEAPPLE, PINEAPPLE JUICE), CARROTS, SUGAR, TOMATO KETCHUP (WATER, TOMATO PASTE, SUGAR, CONTAINS TWO PERCENT OR LESS OF VINEGAR, SEA SALT, ONION POWDER, GARLIC POWDER, SPICES), TOMATO PASTE (TOMATOES), PINEAPPLE JUICE CONCENTRATE, RICE STARCH, GINGER PUREE (GINGER, WATER), SOY SAUCE (WATER, SOYBEANS, SALT, WHEAT), CANOLA OIL, ORANGE JUICE CONCENTRATE, TOASTED SESAME OIL, ROASTED GARLIC, SALT, GARLIC.