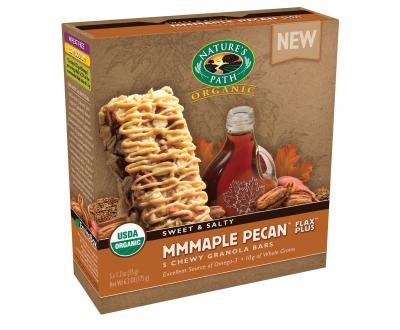 Perfect time for a Nature's Path review, seeing as my GIVEAWAY for granola bars, granola, a box of cereal AND reusable tote is going on AS WE SPEAK (or, as you READ, rather). One of the granola bars a reader has a chance to win is the Mmmaple Pecan Flax Plus Granola Bar, which I was so kindly sent to review from Nature's Path.
These granola bars come in several flavors, in different groups. The Sweet & Salty fans can try the Peanut Buddy, Mmmaple Pecan and Peanut Choco flavors, those of you who like yogurt bars can try Lotta' Apricotta and Berry Strawberry, trail mix fans can try Sunny Hemp and Pumpkin-N-Spice, and chocolate lovers can try Chococonut.
Today, I'm reviewing the Mmmaple Pecan Flax Plus chewy granola bar. It has 10g of whole grains per serving, provides .33g of Omega 3's per serving (25% daily reccomendation), is all natural, and organic too. I'm super excited, we all know I LOVE MAPLE SYRUP! (who doesn't, really?)
Upon my first bite, my first thought really was Mmm! What a perfect name for this bar, "Mmm!" fits the bill!! It has a sweet, buttery taste to it, and reminded me of buttery waffles drizzled with maple syrup. Ohh..delicious. It was definitely more sweet than salty, but still provided a little salty flavor due to the pecans. I really liked how there were chunks of pecans, not just itty bitty pieces. It was a  nice "crunch" in the chewy granola bar, which provided more satisfaction. The maple-butter drizzle on top was the best part- rich and sweet. Why can't companies SELL things like this on it's own!? 🙂
On the down side, the bar is a little tiny (35 g), about the size of a Quaker Chewy granola bar, but a bit thicker. There also is 6 grams of fat and little protein for a bar that is 150 calories.
Overall, I give this bar 4 stars. It deserves 4 1/2 stars on taste alone, but considering that it didn't really fill me up by itself, and is low in protein and fiber, it lost half a star. However, it really was delicious, and is perfect for a light snack with some yogurt or an apple! Don't forget to enter the giveaway and try one of the new granola bars for yourself!! 🙂
1 bar is 150 calories, 6 grams of fat, 22 carbohydrates, 2 grams of fiber and 2 grams of protein.
Granola* (rolled oats*, evaporated cane juice*, soy oil*), tapioca syrup*, pecans*, brown rice flour*, maple icing* (evaporated cane juice*, palm kernel oil* and/or cocoa butter*, cultured buttermilk powder* (skim milk*, starter culture), flavor*, non-fat dried milk*, citric acid, caramel color*, natural maple flavor, sea salt, soy lecithin*, annatto extract*, tapioca starch*), invert cane syrup*, dried coconut*, flaxseeds*, acacia gum*, soy oil*, sea salt, evaporated cane juice*, maple syrup*, natural maple flavor, molasses*.  * indicates Organic
Anndd…
 we have a Guest Post!
Sandy Harris at www.diabeticsnacks.org has provided us with some health benefits Maple Syrup has to offer, and how it can help a serious disease, Diabetes!
"The Secret to Prevent Cancer and Diabetes with Maple Syrup
Are you looking for a natural solution to reduce the risk of diabetes and
slow down the growth of cancer cells?  Your search is probably over
because recent studies have shown that maple syrup holds the key to these problems. US researchers have found that maple syrup has the ability to
substantially decrease the risk of diabetes.
The syrup also showed great potential in slowing down the growth of
cancerous cells. Maple syrup has thirteen active antioxidant substances.
These antioxidants were previously unknown but were discovered only
recently.Because of these antioxidants, researchers have firmed up that
maple syrup has a great potential in fighting cancer growth, diabetes, and
infections.
An Effective Solution or Diabetes Sufferers
Considerable amounts of the phytohormone, abscisic acid, are found in
maple syrup. This acid is a powerful defense against diabetes and
metabolic syndrome, because it encourages the release of insulin through
pancreatic cells and enhances fat cells' sensitivity to insulin.
Seeram revealed the results of his tests on Canadian maple syrup during
the annual meeting of the American Chemical Society in San Francisco.
Maple Syrup as the Best Anti Cancer Food
A study punished in the Journal of Medicinal Food showed that maple syrup
can significantly inhibit the growth of cancerous cells. This study was
conducted by Quebec scholars. It seeks to prove the impact of maple syrup
against cancer cells.
Based on the Quebec research, the growth of cancer cells can be inhibited
by maple syrup. Specifically, the syrup is very effective against brain,
prostate, and lung cancer. Unfortunately, maple syrup has minimal impact
against breast cancer growth.
A Delicious Option in Fighting Cancer and Diabetes
The following is from a study titled: Antioxidant Activity, Inhibition of
Nitric Oxide Overproduction, and In Vitro Antiproliferative Effect of
Maple Sap and Syrup from Acer saccharum, published in the Journal of
Medicinal Food, and written by Jean Legault, Karl Girard-Lalancette,
Carole Grenon, Catherine Dussault and André Pichette:
Maple sap and syrup from 30 producers in three Quebec, Canada, regions
were evaluated concerning the time of harvest and abstract antioxidant
activity, inhibition of nitric oxide (NO) overproduction and the
antiproliferative effect of ethyl acetate extracts.
The harvest time does not have an analytically notable incidence on
antioxidant activity of either maple sap or syrup extracts. Their Oxygen
radical absorbance capacity (ORAC) values are 12 +/- 6 and 15 +/- 5 mumol
of Trolox equivalents (TE)/mg, respectively.
A cell-based assay also confirmed the antioxidant activity. The ORAC assay
was also used to establish the antioxidant activity of pure maple syrup.
The results show the pure maple syrup ORAC value of 8 +/- 2 mumol of TE/mL
to be lower than the blueberry juice value of 24 +/- 1 mumol of TE/mL but
similar to the strawberry juice value of 10.7 +/- 0.4 mumol of TE/mL and
the orange juice value of 10.8 +/- 0.5 mumol of TE/mL.
Lipopolysaccharide-induced NO overproduction in RAW264.7 murine
macrophages was considerably inhibited by maple sap and syrup extracts. It
is believed that transforming maple sap into syrup enhances NO inhibition
action, because the syrup extract was considerably more active than the
sap extract.
The maple syrup extracts induced the highest NO inhibition at the season's
end, and the darker syrup was more active than the clear syrup. This
indicates that the activity could be partially attributed to some colored
oxidized compounds.
Maple syrup extracts (50% inhibitory concentration = 42 +/- 6 mug/mL) and
pure maple syrup have a discriminating in vitro antiproliferative action
against cancerous cells.
Reference: Journal of medicinal food. 01/02/2010; ISSN: 1557-7600, OI:
10.1089/jmf.2009.0029″
Thanks, Sandy! 🙂 Don't we all love maple just a little bit more ?