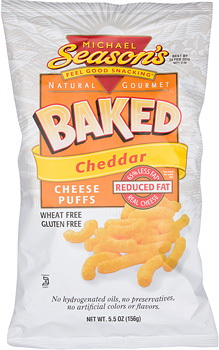 Yum. Junk Food. I mean really, who doesn't love chips, cheese puffs & salty pretzels? 😀
LUCKILY- Michael Season's makes versions of your typical unhealthy fare that are much more diet (and heart!) friendly. All of their snacks are healthier, and don't contain all those nasty ingredients some companies put into their snacks.
The company sent me a few of their snacks to try, and one of my favorites was the Baked Cheddar Cheese Puffs. Not only are these all natural, they are wheat and gluten free, have no hydrogenated oils, no preservatives, no artificial colors and no artificial flavors. AND- I was sent a bag of them in a pre-portioned 100 calorie pack- gotta love portion control!
Each one of them is about the size of your pinky finger, and a dusted with a coating of cheesey powder. What I liked was that it didn't leave my fingers all greasy or ORANGE like some other cheese puffs can. The taste was amazing! STRONG cheesy flavor, similar to cheetos, and you can definietly taste the buttermilk undertones of flavor. Salty and cheddary, they provide a burst of flavor and some guilt free snacking. Plus, you get a lot in the bag for 100 calories! Normally 100 calorie packs scrimp on portions, but you get a good amount in each bag. Kudos, Michael Season's, you get 4 1/2 stars!
1 bag is 100 calories, 3.5 grams of fat, 15 carbohydrates, 1 gram of fiber and 2 grams of protein.
Organic Cornmeal (40%), Cornmeal, Corn Oil and/or Sunflower Oil, Whey, Reduced Lactose Whey, Butter (cream, salt, annatto extract), Buttermilk, Cheddar & Blue Cheese (cultured milk, salt, enzymes), Salt, Disodium Phosphate, Lactic Acid, Natural Flavor, Color (paprika, tumeric, annatto), Citric Acid.
HEY! Ya know what goes good with cheese puffs? ALMOND MILK! well,  not really.. but enter my giveaway, anyway!!