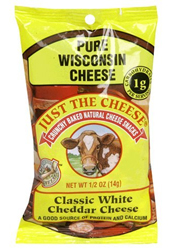 (HOW LUCKY ARE YOU!! 2 reviews in one day- I'm on a roll 8) (scroll down for the 2nd review on cookies after this post!!) )
You read right- crunchy, baked, CHEESE snacks!
These snacks are made by company Just the Cheese and are literally crunchy bites of CHEESE! The company sent me some of their flavors to try, and I was both hesistant, yet excited, to try these cheesy snacks. After all, I do like Cheez-it's and Amy's Cheddar Bunnies, so why not like these?
Well- the only resemblance between cheese crackers and Just the Cheese snacks are the word "Cheese". These snacks are a COMPLETELY different cheese-snacking experience! They come in flavors White Cheddar, Pizza, Nacho, Cool Ranch, Jalapeno, Wisconsin Cheddar, and Grilled Cheese.  I decided to try the Crispy Cool Ranch, White Cheddar, Pizza, and Jalapeno varieties. Who knew there were so many cheesy-snacks?!
Each 1/2 oz. bag provides a rather large handful of round cheese bits. Each bit is about the size of a dime or a penny, and crumbly in texture. It certainly is hard and crunchy. The Pizza and White Cheddar flavors were my favorite- the Pizza flavor ACTUALLY tasted like eating pizza in crunchy form! It had a saucy/paprika flavor, and also had undertones of garlic and onion. The White Cheddar flavor reminded me of white cheddar popcorn and that white cheddar cheese sauce you would get if you were to make boxed mac & cheese (in the white cheddar flavor, of course). My next favorite was the Crispy Cool Ranch, as it had a slight ranch flavor, but was overall quite salty. I did taste hints of onion and garlic as well. Lastly, of the four, the Jalapeno flavor. It has a little bit of a kick to it, but was too pepper-y tasting for my preferences. I'll stick to th Pizza and White Cheddar for now! 🙂
Overall, these get 4 stars. They are unique snacks for sure, and I love how there are really no other ingredients besides cheese! They also have 5 grams of protein per bag and have a good amount of calcium per serving as well. They are certainly salty  however, so make sure you have some water near by! Otherwise, there's no better way to nix a salty/cheesy craving than to pop a handful of these cheese nuggets in your mouth! 🙂
1 bag (approx 22 pieces) is 75 calories, 6.5 grams of fat (3.5 grams saturated),1 gram of carbohydrates, 0 grams of fiber, and 5 grams of protein.
ingredients only vary slightly from flavor to flavor. Here's the ingredients for the White Cheddar Cheese
Cheese (milk, salt, cheese cultures, enzymes), Other Natural Flavors, Autolyzed Yeast, Maltodextrin from corn, Yeast Extract