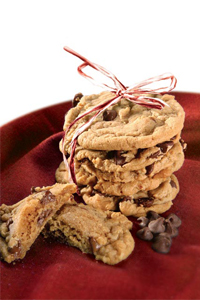 Set your timers, whip out the pots and pans, and let's bake some cookies!
But wait- We're not going to use just any old cookie mix- how about one that's organic, gluten free, and all natural? And not filled with icky preservatives, chemicals sugar and FAT?!
These sound like my kind of cookies 😉
Doodles Cookies makes all natural, gluten free & organic cookie mixes, that according to the website, "will only set you back 90 calories and 2 grams of fat". Why is that? Because the company made it so you can use all natural applesauce instead of butter or margarine with their mixes, and still make tasty treats, but healthier!
Well, Doodles Cookies sent me a box of their gluten free chocolate chip cookie mix to bake. I was hopefull and excited, the ones on the box looked soooo yummy, and I was totally craving chocolate chip cookies. I went for a nice run that day, and I deserved a special treat! 🙂
I whipped open the box, and the first thing I noticed was there are TONS, and I mean TONS of chocolate chips, and they were BIG, too!. Ratio of chocolate chips to cookie mix was seriously 2:1 ! If you are a fan of chocolatey chocolate chip cookies- get these! It says you can either use margarine or applesauce, so I figured I would opt for the applesauce option. I don't think I ever baked cookies with applesauce before, yes muffins, bread, cake, etc., but not cookies!
Anyway- after adding the applesauce, vanilla and egg, I noticed it was quite hard to mix, actually. It was VERY crumbly, and I had to resort to mixing my hand and kneading the dough. Perhaps it was crumbly because I used applesauce instead of butter? Who knows. I tasted some raw dough, and it was actually quite off tasting. Not that sweet, and gritty. The chocolate chips, however, were awesome. Melty and smooth, and milk chocolately goodness 🙂
I got 24 cookies out of the box, and cooked them for about 15 minutes each. They were crumbly and a little hard to get off the pan (again, probably because I used applesauce instead of butter). They were sweet and really good when you bit into a chocolate chip- reminded me of a Toll House cookie! The cookie part itself was okay, but when eaten with the chocolate chips, very tasty. They got very crunchy when cooled, not as soft as usual cookie mixes.
Overall, not bad, I give it 3 1/2 stars.  I bet if I used butter, they would have come out better, and had a richer taste. I'd like to try making them again with butter instead of applesauce to see if it does make a difference. I gave one to my dad, who really liked them, but he said he's a fan of crunchy, not soft,cookies. Other than that, what a great swap for other commercialized cookie mixes, that's not only organic, but also gluten free! Each cookie is also only about 90 calories, which is a plus, although they do have about 2 grams of saturated fat each (for 21 cookies).
4 tsp dry (makes 21 servings per box), is 90 calories, 3.5 grams of fat, 14 carbohydrates, 1 gram of fiber, and 1 gram of protein.
Organic Chocolate Chips, Organic Whole Grain Oat Flour, Organic Whole Grain Brown Rice Flour, Organic Evaporated Cane Juice, Organic Brown Sugar, Organic Corn Starch, Organic Tapioca Starch, Baking Soda, Non-Aluminum Baking Powder, Xanthan Gum.