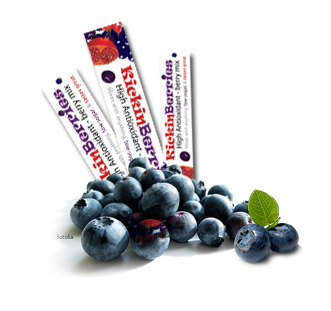 Goji,  Elderberry, Acai and Pomegranate- these 4 types of berries have quite the buzz in the health department, for all the nutritional benefits that they provide. Well, the folks at easydrinkpack.com sent me 2 free samples from  of the KickinBerries Antioxidant Drink Mix, that combines all of these nutritious berries. (Read more about the health benefits of berries on their website) Their motto is "You bring the bottle, we'll bring the benefits".
I'm always on the lookout for yummy alternatives to water, but ones that are healthy and also provide health benefits. This seemed to fit the bill quite nicely!
When I got the 2 packets, I first noticed the size. These were HUGE! Think, double the size of a crystal light. And you pour the whole thing in one bottle of water (or juice, or anything you want, really)- that's a lotta' antioxidants 😉
I poured it into my water and noticed it changed into a nice deep purple/pink color. I took a sip- not too shabby! It was mildly sweet with tart aftertastes. I did notice it made my throat feel a little "phlegmy", but not too bad. Overall, I would give this product 3 1/2 stars. I love the fact that it provides a nutritional punch combining the 4 berries, and is actually refreshing. I didn't like that one of the ingredients was sucralose, and that it's 25 calories per pack. I don't think the flavor is strong enough to split the pack in half and use it for 1 water bottle, so you would probably have to use the whole packet. However, 25 calories a packet is a LOT better than the 100+ you can consume with certain juices or soft drinks, so that's definietely a healthier swap!
1 packet is 25 calories, 0 grams of fat, 9 carbohydrates, 0 grams of fiber, less than 1 gram of sugar, and 0 grams of protein.
Acai, Elderberry, Pomegranate, Goji Proprietary Blend (1750 mg). Maltodextrin, Citric Acid, Berry Flavor, Vanilla Flavor, Silicone Dioxide, Sucralose.
Dont forget to enter this awesome YOU BAR giveaway!! 🙂