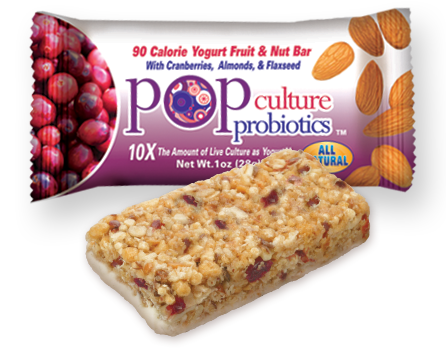 Who here eats yogurt for the beneficial probiotics it provides and the taste they love? 🙂 (meeeee!!!!!)
Who here eats yogurt for just the beneficial probiotics it provides?
Well, for those of you who aren't too fond of yogurt, here is a product you may want to try. PopCulture Probiotics makes delicious and healthy products that contain the same good-for-you bacteria that's in yogurt. According to the website, "We chose a particular strain of probiotic for this product because of its unique ability to survive and reach the digestive system alive where it can provide you with the most health benefits. Pop Culture products are opening up new possibilities for consumers who want non-refrigerated probiotic-enhanced food products that can help regulate the digestive system. Our foods are a great way for consumers to get their daily dose of BC30 Probiotic, in a convenient, great tasting on-the-go food."- Cool! 🙂
The company sent me some bars to try, like the 90 calorie yogurt fruit & nut bar. It has cranberries, flaxseed and almonds, and according to the wrapper, delivers TEN times the amount of live culture as yogurt. Wow! That's a lot of bacteria! The bar is also all natural and enhanced with vitamins & minerals.
The bar itself is kinda tiny, a snack bar if you will, about the size of a computer mouse, but not as wide. There's a sweet yogurty/icing coating on the bottom, that tastes like vanilla. There is also TONS of flaxseeds-these little brown guys are all over the bar! It has a sweet, berry taste to it, with a slight hazelnut/almond flavor as well.
Overall, a cute and efficient snack! I give it 4 stars– I would have liked if it was a little bigger, but then again, it's only 90 calories. You could totally have 2 and be satisfied- that would be 8 grams of protein and 8 grams of fiber (and a TON of probiotics) if you ate two! I also like how it provides calcium and other vitamins/minerals, as well as those lovely bacteria that will help digestion! What I didn't like was that there was refined sugar in the bar. I also didn't really care for all the flaxseeds, but that's  just personal preference. They also make oatmeal with probiotics- I'd like to try that!! 🙂
1 bar is 90 calories, 3.5 grams of fat, 15 carbohydrates, 4 grams of fiber, 7 grams of sugar, and 4 grams of protein.
Rolled Oats, Brown Rice Syrup, Soy Crisps (soy protein isolate, tapioca starch, rice flour, malt, salt), Crisp Rice (brown rice kernels, salt, barley malt extract), Yogurt Coating (sugar, palm kern oil, nonfat fry milk powder, yogurt powder [cultured whey & nonfat milk]), Hazelnuts, Cranberries, Almonds, Agave Syrup, Tapioca Syrup, Flax, Vegetable Glycerin, Acacia Gum, Gum Arabic, Soy Lecithin (an emulsifier), GanedenBC (Bacillus coagulans GBI-30, 6086).