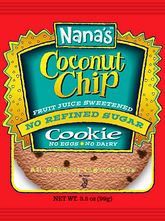 Nana's Cookie Company makes all their products in a special way- without eggs, dairy, refined sugars, cholesterol, no beet/cane products, and without trans fats. They make several types of delicious cookies and cookie bars, that are each unique and sure to please.
I've seen some of Nana's products at my local Whole Foods, but never picked them up (and now I ask myself, WHY NOT!?!). So, you can bet I was excited when the company sent me their Coconut Chip Cookie, sweetened with fruit juice.
First off- WOAH. This cookie is BIG. I'm not talking "yeah, put too much cookie dough on the pan and it expanded too much" big. I'm talking BIG! This is definitely more than just a snack, it's an indulgence, if you will. In fact, the company's website states, "More than a treat, this rewarding combination of chocolate morsels and naturally sweet coconut is a delight from the first mouth-watering bite."
Well, my mouth was certainly watering before I even took my first bite ! 😉
I opened up the cookie and just kinda stared at it for a minute to take it all in. Big chunks of chocolate chips, the sweet smell of coconut, and a thick, lightly browned cookie sat in front of me. There was no way I would be able to stick to the 1/2 a cookie serving size. I broke off a piece… COOKIE HEAVEN! It was sweet, buttery and rich. The chocolate chips melted in my mouth and was surrounded by a fragrant and delicious coconut flavor. WHAT a combination. This was soooo good. Soft and crumbly, an ideal cookie.
BUT- WHY on EARTH is 1/2 a cookie 180 calories? ACK! That's the only reason this cookie isn't getting 5 stars, because If you ate the whole thing, it sets you back 360 calories (whoops!). But honestly- it's so worth it (props to you if you can have 1/2 at a time!) In a word, it's delicious and addictive (guess that's 2 words). I'm giving it 4 1/2 stars. Plus there's no refined sugars and it's sweetened with fruit juice- can't be beat!