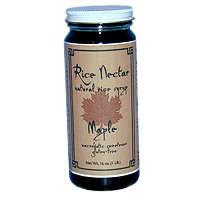 We all know my love for maple and maple syrup- so you can BET I was excited when a jar of Suzanne's Organic Rice Nectar in Maple variety landed on my doorstep, courtesy of Suzanne's Specialities (thank—you!)
This sweetener is all natural, organic, gluten free, vegan, and has no refined sugars. According to the jar itself, "Organic Maple Rice Nectar is a rich, thick, absolutely delicious maple flavored syrup. We have simply added the very best natural maple flavorings to our Organic Genmai Rice Nectar. This all natural syrup contains no emulsifiers or stabilizers or preservatives". 
Well, if you're going to eat the sweet stuff, you might as well go with the healthiest ones out there!
So, instead of traditional maple syrup, I had some of this on top of my waffles tonight with a sliced banana. (Yes, I purposely had waffles for dinner to try this syrup!)
In the jar, it looks almost like coca- cola syrup, having a thick yet still moveable texture/consistency. As in, yes, I can pour it out of the jar faster than maple syrup, but it doesn't POUR out of the jar like sugar free syrup would. It's an inbetween consistency. I drizzled it on top of my waffles, and actually only needed 1 tablespoon. Some people drown waffles in syrup, but I think it's better to have a small amount of the real stuff- you really get to savor the flavors of both the waffle and the syrup.
Anyway- this stuff was STICKY, yet TASTY! It almost had a buttery-maple flavor, but definietely a clean and pure maple flavor. I absolutely loved it. It was sweet, but not sugary-sweet, and just great on top of my waffles. I agree with what the jar says, how it will make what your eating "great tasting without the over-powering sweetness of those supermarket-type maple flavored syrups". I can picture it really good stirred in oatmeal or oat bran as well. (And, we all know how yummy peanut butter & maple syrup sandwiches are. Yum!!)
Overall, 4 1/2 stars. Only 2 ingredients, it's organic, and tasty. I love that it's so pure and a little goes a long way. Just be careful, 1 Tablespoon has 60 calories- and boy is it easy  to eat one tablespoon of this 😉
2 Tbsp. is 120 calories, 0 grams of fat, 31 carbohydrates, 0 grams of fiber, 17 grams of sugar, 0 grams of protein.
Organic Brown Rice Syrup, and Organic Maple Flavor.