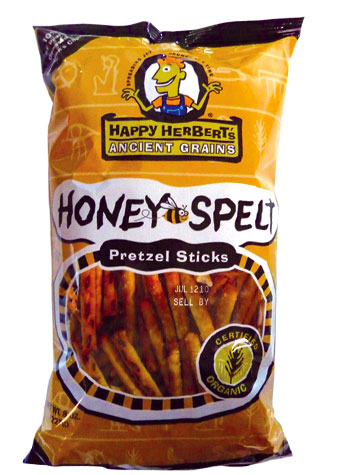 Here's a new "twist" on pretzels (I couldn't help myself! 🙂 )- instead of being made with traditional wheat, Happy Herbert's makes Honey Pretzel Sticks made with spelt. What is spelt, exactly? Spelt still is wheat, but it's easier to digest, and according to the bad, "many people allergic to modern wheat aren't allergic to spelt"- but they still reccommend you get the OK from your doctor. The bag also says spelt has a "nutty flavor and more protein than modern wheat", and spelt is an "'ancient grain'".-Cool!
Anyway, Happy Herberts sent me some of their pretzels, including the Honey Spelt Pretzel Sticks. I traditionally love honey, um, ANYTHING, so I was pretty excited to try these 🙂
 Before opening the bag, I noticed how cute the little bee cartoon was on the front cover, and the boy on the cover, who I assume to be the "Happy Herbert", with the saying "Spreading Joy One Crunch at a Time". I love the cute cartoons, and I admit, sometimes they get me to buy the product (what! So I'm a total kid at heart ! 🙂 ) Each pretzel stick is skinny, and about the size of your pinky finger. They were crunchy, but definietely softer than traditional pretzels. They weren't salty tasting, depite the 210mg of sodium per serving, and had a light honey flavor. They were a tad bit dry, and a drink is needed (but, don't ALL pretzels require you to drink something??). I had my mom try some, and she enjoyed them, saying they were "munchable". As in, you could probably eat these straight from the bag in front of the television without a problem 🙂
Overall, I give them 3 1/2 stars. They had a mild honey flavor, and  I would have preferred a little bit of stronger or sweeter taste, since it was honey flavored, afterall. These also lack fiber, so they won't hold you for very long if eaten alone. However, you could eat these as is, or you could dip them into whatever you please. I like that these are organic, and 10% of the profits are donated to children's charities. Woo-hoo!
1 oz, about 11 pretzels, is 110 calories, 1 gram of fat, 23 carbohydrates, less than 1 gram of fiber, 4 grams of sugar and 2 grams of protein.
Organic Unbleached Spelt Flour (wheat), Organic Honey, Organic Soybean Oil, Yeast, Salt, Sodium Bicarbonate.