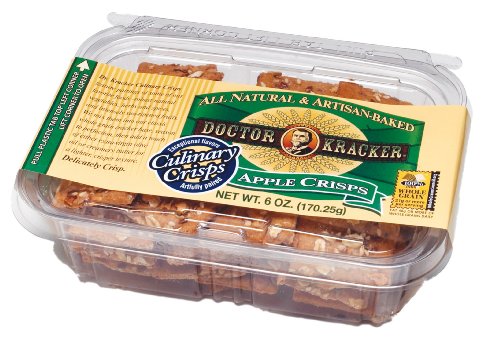 Who likes crackers!?! 🙂
I know I do- for soup, for spreads, or for munching out of the box. They are versatile, delicious, and just great! But, some crackers have bad things, like trans fats, or preservatives and artificial additives. Luckily, Doctor Kracker makes healthier, all natural crackers. According to the website, "use only the highest-quality organic grains, seeds, and dried fruits to make our crackers." They also "leaven our Dr. Kracker flatbread crackers with good old-fashioned yeast, not the chemical formulation most conventional cracker companies use." Cool!
The company sent me some of their artisan baked, crackers to try. I decided to review the fruit varieties, the culinary crisps in Apple and Cherry Semolina varieties.
Cherry Semolina- each crisp is about the size of your standard cracker, like a wheat thin, but definitely thicker. It has little pieces of cherries on it, and is also covered with baby, white sesame seeds. The cracker by itself has an unusual, yet good, taste. It's slightly salty from the seeds, but sour and sweet from the bits of cherries. It has a nice crunch to it, and  almost has a toasted flavor. Quite good! 3 1/2 stars
Apple Crisp- ooh, I like these!  Seeing as the big apple fan I am, I enjoyed these a lot. They weren't as hard as some of the other Doctor Kracker crackers I had tried, but still crunchy. They had a nice, mild sweetness, and a real apple flavor. They are covered with a few flax and sesame seeds, but not as much as the Cherry Semolina flavor. You can totally eat these by themselves, as they don't need any topping (although, how awesome would CARAMEL or cream cheese be!?). I almost wish these came in a bigger variety- the more apple the better! 4 stars
Overall, these were pretty good!  Doctor Kracker also makes crackers that come in more savory flavors, like Fire Roasted or Pumpkin Cheddar, but I preferred the sweet ones. I think the Apple ones were my favorite- I like any type of cracker that I can eat right from the box (or plastic container, in this case!). I also liked that these were relatively low in fat and calories, and provided some whole grains and protein, too. Nice!
Cherry Semolina- 8 pieces is 110 calories, 3 grams of fat, 16 carbohydrates, 2 grams of fiber, 3 grams of sugar and 4 grams of protein.
filtered water, organic whole wheat flour, semolina flour, durrum flour, cane sugar, organic sesame seeds, dried cherries, organic flaxseeds, olive oil, yeast, sea salt, organic barley malt syrup, fennel powder
Apple Crisps-  8 pieces is 110 calories, 3 grams of fat, 17 carbohydrates, 2 grams of fiber, 8 grams of sugar and 4 grams of protein.
organic whole spelt flour, filtered water, cane sugar, butter, organic flaxseeds, dried apple, brown sugar, whole oats, organic sesame seeds, yeast, sea salt, organic barley malt syrup, vanilla