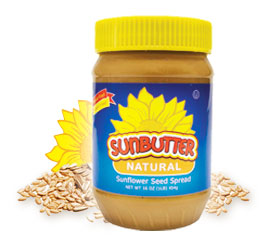 Ah, nut and seed butters. Nothing's better than these spreads of fruits, chips, sandwiches, or even straight from the jar. I've tried my fair share of peanut and many types of nut butters in my life, but never had sunflower seed butter. In fact, I didn't even know it existed! Well, that all changed when I was introduced to Sunbutter. This spread is made from sunflower seeds, and is peanut free and gluten free, making it good for those who have allergies. Sunbutter comes in Creamy, Natural,  Natural Crunch,  Natural Omega-3, Organic Unsweetened, and the On-The-Go Snack Pack. The company sent me some jars to try, and I decided to do a review on the Natural flavor.
I'll be honest, at first I was not a fan. But I think that's because I was sort of expecting peanut butter. Like I said when I reviewed soy nut butter- you cannot  expect a flavor- you have to just TASTE it for what it is. So, I tried the Sunbutter a few times, and it really grew on me. In fact, I like it now!
Upon opening the jar, you can see it is a very creamy and "liquidy" spread- sort of like my experiences in the past with almond butter, it makes a good "drizzly" spread. As in, you can put a spoon in it, and then it will drip off of the spoon (there are no hydrogenated or palm oils in this spread, so I would imagine that is why it is not as stiff as other nut or seed butters). It's the same color as peanut butter for the most part, and has a strong sunflower seed smell. The taste is quite good- a mild sunflower seed taste, and has that creamy aftertaste that peanut butter sometimes provides. Not salty, but it has a slight sweetness. It's quite good! I tried mine straight from the jar, but I think I'm going to try it with jelly for a Sunbutter&Jelly sandwich, or maybe on a toasted english muffin.
Overall, I give it 3 1/2 stars. It's not my favorite, but it actually is quite good. It reminds me of baseball, actually, and being a little kid. I remember always eating sunflower seeds while watching the game with my brother or father, so this spread brought back good memories! I also like that there are no hydrogenated oils, and that it's a good source of fiber and protein.
*Have you ever tried sunflower seed butter? How do YOU use it?*
2 Tbsp is 200 calories, 16 grams of fat, 7 carbohydrates, 4 grams of fiber, 3 grams of sugar, and 7 grams of protein.
Sunflower Seed, Dehydrated Cane Juice, Salt, and Natural Mixed Tocopherols to preserve freshness.