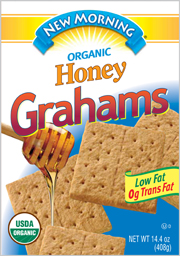 Let's play word association- I'll say a word, you pick what comes to mind.
Well, if the word was "graham crackers" the immediate thing that comes to my mind is S'MORES! I love s'mores, and I'm sure a lot of you do, but I always have difficulty finding graham crackers! Some brands may have not-so-healthy ingredients, like preservatives, trans fats, artifical colors and flavors, or even just too much sugar.
So, I was excited to recieve a box of New Morning Organic Honey Grahams, thanks to U.S. Mills, in the mail. Perhaps I could finally make myself a healthy s'more? I was thinking a block of organic milk chocolate, some of Suzanne's Ricemellow Creme, and some of these graham crackers. Yum!
So, I opened up the box and took out a graham cracker.  They are the average graham cracker sheet size, but I noticed they are a bit thicker. They have a light honey smell, and a crumbly texture. As for the taste, they had  a very light honey flavor to accompany the light honey smell. They also really weren't too sweet, which was kind of refreshing, because sometimes products can be too sweet and it takes away from the other flavors the product has to offer. They were a bit dry, but nothing a glass of milk couldn't fix 🙂
Overall, these get 3 1/2 stars. Not bad on their own, but I would reccommend playing with them a bit for the best taste. I think the light sweetness would be good for a s'more, as marshmallows and chocolate are also quite sweet on their own. I wish they were a little less dry, but they are also low in fat, so I would assume that is why. I also wish they had more fiber per serving. However, they are organic, all natural, trans fat free, and relatively low in sugar, fat and calories, so they are a good choice for graham crackers.
2 full cracker sheets are 120 calories, 2.5 grams of fat, 21 carbohydrates, less than 1 gram of fiber, 6 grams of sugar, and 2 grams of protein.
Organic Unbleached Wheat Flour, Organic Whole Wheat Flour, Organic Evaporated Cane Juice, Organic Vegetable Oil (sunflower and/or safflower), Organic Honey, Organic Molasses, Leavening (ammonium bicarbonat, sodium bicarbonate), Sea Salt, Cream of Tartar.
Last few days to enter the Nana's Cookie Company giveaway!