Doing a double post tonight, seeing as I won't be able to post a review tomorow. Aw, man!! 🙁 But, anyway. Enjoy !!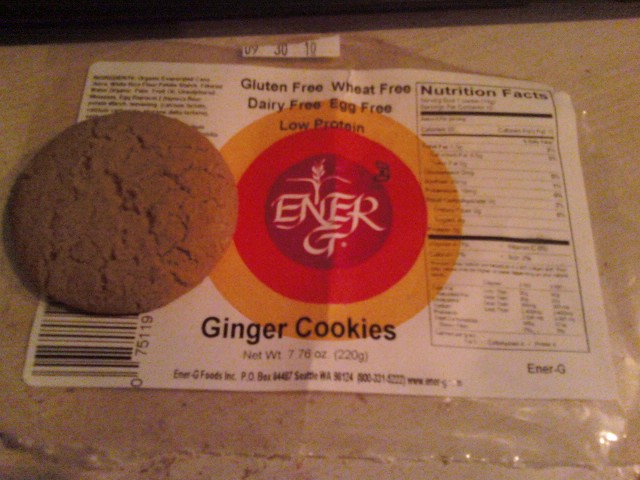 I'm sure you guys have heard of Ener G . They make an assortment of foods that cater to the needs of those with special dietary needs. This includes breads, pretzels, cookies, etc. According to the website, "We not only offer wheat free, gluten free products, but also products for low protein diets and dairy free products. Additionally, all of our products are free of peanuts, tree nuts, and are also Kof-K Certified. Our bakery is dedicated to wheat free, gluten free baking, guaranteeing that contamination from gluten will not occur."
That's great- I love companies that try to make products that everyone can enjoy! 🙂
Anyway- Ener-G sent me some of their products to try, and of the ones I was sent, one of my favorites was the Ginger Cookies. I'm a fan of gingerbread cookies around Christmastime, and a good ginger snap is always tasty to me. So, I was happy to try these. These cookies in particular are gluten free, wheat free, egg free and dairy free.
These cookies certainly smell delicious, with a fresh ginger scent. They are crunchy and sweet, and have a light ginger flavor, which was actually quite nice. It wasn't overpowering at all, or too spicy. They were sweet enough to keep eating right out of the package!  A light, yet flavorful cookie. Goes perfect with a cold glass of milk, or even by itself.
The best part about these cookies… only 50 calories each! Yea! They are only 1.5 grams of fat each, so they are low fat, low calorie, and yet still quite tasty. I give them 4 1/2 stars, because although they are delicious, they lack fiber, and the first ingredient is organic evaporated cane juice. However, gluten free products tend to be lower in fiber than non-gluten free, and they are cookies, so I think they are a delicious treat. Especially if you like ginger! 🙂
1 cookie is 50 calories, 1.5 grams of fat, 9 carbohydrates, 4 grams of sugar, 0 grams of fiber, and 0 grams of protein.
Organic Evaporated Cane Juice, White Rice Flour,Potato Starch, Filtered Water, Organic Palm Fruit Oil, Unsulphured Molasses, Egg Replacer [ (tapioca flour, potato starch, leavening (calcium lactate, calcium carbonate, glucono delta lactone), sodium carboxymethylcellulose, methylcellulose], Ginger Powder, Sodium Bicarbonate, Monocalcium Phosphate, Vanilla Powder [(vanilla bean extractives, dextrose (corn sugar)], Sodium Carbohymethylcellulose.