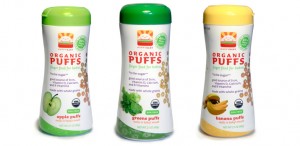 Yes- I'm reviewing a baby food….again. 😀 HappyBaby sent me some coupons to try their organic puffs for free, so I decided "why not?"
I got these puffs in both apple and banana flavor, which come in long, plastic tubes with a flip open cap. According to the package the puffs come in, they are made with whole grains, are BPA free, organic, and provide some calcium, vitamin B and D, and iron. These puffs are essentially little pieces of cereal that are easy for the baby to eat. They are also soy, corn and dairy free.
As for me, I decided they might be a good munching snack or a good addition to trail mix. They are in cute flower-y shapes, about the size of Cheerios. In fact, these taste pretty much like Cheerio's as well. THey are light and puffy, and have a pretty bland flavor. They only provide .5 grams of sugar per serving, so I wasn't really expecting much sweetness. The apple puffs had a very slight granny smith apple aftertaste, and the banana puffs didn't really have much of a banana flavor, but were just sweeter, rather.
Overall, I give these 3 stars. I understand they are meant for babies, so they are low in sugar, but also a bit low in flavor. However, they are GREAT for babies- just like the package says, they really melt in the mouth, so the baby can eat it easily. They are also small and easy to pick up. As for me, I like that they are organic, contain vitamins like calcium, and are pretty low calorie, although they lack fiber. I think they would be great for a little added crunch in yogurt, or to add to "bulk up" some of those sugary cereals for breakfast.
1 serving, 75 pieces/ about 1/2 a cup, is 25 calories, 0 grams of fat, 6 carbohydrates, 0 grams of fiber, .5 grams of sugar, and 1 gram of protein.
Banana Puffs- organic rice, organic whole oats, organic wheat, organic apple juice concentrate, organic whole grain brown rice, organic wheat starch, organic banana; vitamins and minerals: ascorbic acid, citric acid, di- and tri-calcium phosphate (calcium), mixed tocopherols (vitamin e), ferric orthophosphate (iron), vitamin d3, niacin (vitamin b3), zinc oxide, d-calcium pantothenate (vitamin b5), riboflavin (vitamin b2), thiamin mononitrate (vitamin b1), pyridoxine hcl (vitamin b6), vitamin b12, folic acid
Apple Puffs- organic rice, organic whole oats, organic wheat, organic apple juice concentrate, organic whole grain brown rice, organic wheat starch, organic apple; vitamins and minerals: ascorbic acid, di- and tri-calcium phosphate (calcium), mixed tocopherols (vitamin e), ferric ortho-phosphate (iron), vitamin d3, niacin (vitamin b3), zinc oxide, d-calcium pantothenate (vitamin b5), riboflavin (vitamin b2), thiamin mononitrate (vitamin b1), pyridoxine hcl (vitamin b6), vitamin b12, folic acid