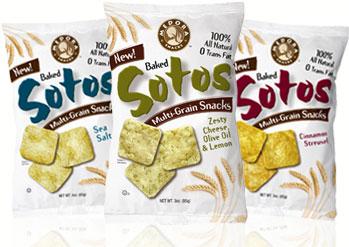 I'm always on the lookout for healthier yet crunchy & satisfying snacks, for when the munchies occur, or as a nice addition to my lunch or whatnot. Medora Snacks has some healthier and delicious snack options that are made with better-for-you ingredients than some other snacks that are out there.
So, what are Sotos? Well, according to the website, "Sotos® Multi-Grain snacks pack highly nutritious multi-grains in each little square for a better-for-you snack you will love. Our unique baking process captures the flavor of the all-natural seasonings to give you a satisfying crunchy experience that you'll want to try again." They come in 3 flavors- Cinnamon Streusel, Zesty Cheese Olive Oil & Lemon, and Sea Salt.
Medora Snacks sent me some yummy Sotos to try, and I was quite happy. Crunchy? Healthy? Count me in!
I decided to review about the Cinnamon Struesel and Zesty Cheese Olive Oil & Lemon flavors, as they seemed the most exciting. Each "Soto" is the shape of a square, about the size of a Cheez-it , and crispy and crunchy. In each 1.5 oz bag, there actually are quite a large amount of these yummy Sotos, which is good in my book! 🙂
Zesty Cheese Olive Oil & Lemon- Very light and crispy, but definitely flavorful. The cheese has a delicious salty parmesean flavor, that's finger-lickin' good. It also had a bit of a white cheddar cheese flavor as well. There was a prominant parsley flavor that I noticed with the Sotos as well, that added to the unique yet good taste. Overall, it was a bit too salty, but very yummy.
Cinnamon Streusel- yum!! Coated with cinnamon and sugar, this are also crispy, crunchy and delicious. They are sweet without being overly sweet, and yet only provide 5 grams of sugar per serving. They kind of taste like a cross between a cinnamon sugar flavored potato chip and rice cake- also unique, but yummy!
Overall, these get 4 stars. I like how the portion size is quite large, and how they are made with whole grains. They are tasty and quite different than the traditional chip or snack food, and worth trying. However, even though the portion is large, the thing with "airy" and "crispy" snacks, is that they often lack in the satiety department. Eating these alone, in my opinion, will probably leave you hungry shortly after eating them. However, pair them with a protein filled sandwich and some fruit/veggies, and you have yourself one tasty meal!
1 ounce is 120 calories, 3-4 grams of fat, 19-20 carbohydrates, 2-3 grams of fiber, 2-5 grams of sugar, and 2 grams of protein.
For information on the ingredients, visit the website here.