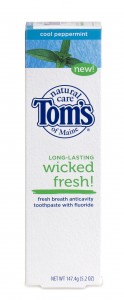 What? That's not a food…
Well, who says healthy is limited to food and drinks? As part of a healthy lifestyle, you can also use cool products such as all natural or organic toothpastes, deodorants, hair products- anything! 🙂
Tom's of Maine was very nice and sent me a box of their new Wicked Fresh! Flouride Toothpaste in Cool Peppermint along with some background information on this new product.
According to the product sheet I was sent, this toothpaste is…
"-Made with 100% Natural Ingredients
-No Artificial flavors, sweeteners, saccharin, dyes or preservatives
-No animal testing, or animal ingredients
-Fully-recyclable packaging and tube
-10% of Tom's of maine's net profits go back to the community to help take care of the world we share
-Available in Cool Peppermint and Spearmint Ice"
Cool! I also found out Tom's of Maine never tests anything on animals. Isn't that great! 🙂
So, I decided to try this toothpaste instead of my usual. The tube wasn't like other tubes of toothpaste I have had in the past. Those are normally a soft plastic-y material, while the Tom's of Maine tube was metal like and harder. The actual toothpaste was a pale yellow in color, but had the same consistency of my usual. The taste really is a "cool" peppermint, just like the flavor says! It wasn't overpowering at all, but good to freshen up, and left that "cool" feeling in my mouth. It certainly wasn't as minty as what I'm used to, and much lighter on the minty flavor, but it was still enoyable.
Overall, this toothpaste gets 4 stars from me. I like how there aren't any artificial ingredients, the tube and the box are recyclable, and no animal testing! The flavor wasn't as minty as I had hoped or expected, but it still left a nice "cool" feeling after I brushed. Not bad! I would definitely give it a try if you find this in your nearby store. The price for one 5.2 oz tube is $4.29, which is a little expensive, but I like how Tom's of Maine has a lot to offer back to the community- so I think it's worth it!
Active Ingredient- Sodium monoflourophosphate 0.76% (.14% w/v flouride ion)
Inactive Ingredients- Glycerin, Water, Hydrated Silica, Calcium Carbonate, Xylitol, Natural Flavors, Sodium Lauryl Sulfate, Chonodrus Crispus (carrageenan), Glycyrrhiza Uralensis (licorice) Root Extract.