Think it's too hot for tea?
Well, even in the summer, it's good to have a cup of tea every now and then. Very soothing, calming, and quite delicious if you pick the right ones! I was sent coupons to try a free box of tea from both Yogi and Celestial Seasoning's, so I decided to pick some up for a review.
Now, keep in mind I drink my teas sweetened. I do NOT drink my teas as is, because I find them to be too bland or too strong. However, each tea I tried I used a little bit of Stevia to bring out the flavors.
We'll start with Yogi- Of the flavors they had available at my supermarket, I decided to pick Berry Detox. It claims that it "supports healthy liver and intestinal function" on the front of the packet. I'm always down for anything that promotes good digestion! Plus- I love berries! So I picked this one.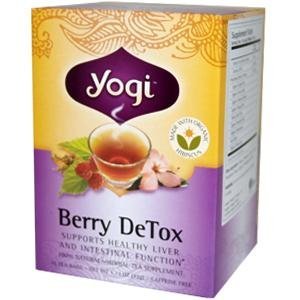 This one smells really good. Even through the bag- refreshing and clean smelling. After I plopped a bit of Stevia in and let it sit, I took a sip. It actually had a very powerful taste! Sweet, but not overpowering, you could taste a berry flavor. I was surprised at how strong this tea actually was. I wonder if it would make a good "iced" tea, or if it would be good cold. Hmm… Anyway- I give it 4 stars.
Onto Celestial Seasonings tea, I decided to buy the Sugar Cookie Sleigh Ride Herbal Tea. I know, I know, this is a holiday tea and probably is intended for Christmas-time, but anything with the word cookie in it has my attention! I actually did buy this one during that time, but I'm going to enjoy it year round!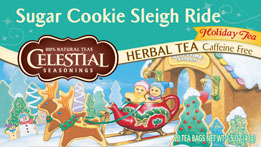 First of all, the smell, is, SO GOOD! A strong sugary sweet vanilla smell escapes once this tea is brewed. Yum! After it was brewed and I added a touch of Stevia, it actually wasn't as sweet as I had hoped. Still a sweet tea, but not as "sugary" sweet as I had hoped. Mostly a vanilla and even a bit of a milky flavor to this tea, it was very soothing and calming when I drank it at night. 4 stars
Overall, tea is great! I tend to like my teas cold (especially green tea sweetened with lemon!), but these are two good ones hot. I would give them a try if you like tea, they are worth it!
Berry Detox-Organic Ginger Root, Organic Fennel Seeds, Organic Hibiscus Flower, Organic Orange Peel, Yellow Duck Root, Organic Strawberry Flavor, Organic Rhubarb Root, Organic Honeybush, Acai Berry, Organic Raspberry Flavor, Organic Pomegranate Flavor, OrganicStevia Leaf, Emblic Fruit (Arnia) Extract (Tannins 35%).
Sugar Cookie Sleigh Ride Tea- Milk thistle, roasted barley, orange peel, natural sugar cookie flavor with other natural flavors and vanilla bean.