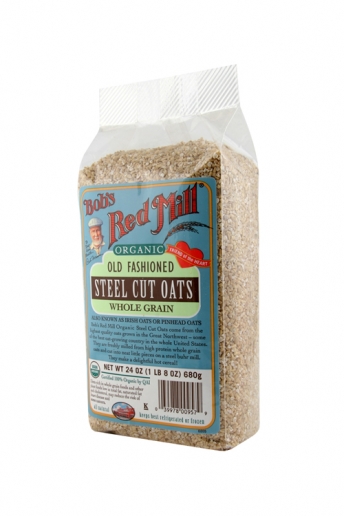 Ahh, oatmeal. I love oatmeal. I find it always warms and fills me up quite nicely. I love adding fruit, jams, maple syrup, cinnamon, brown sugar, or just about anything to it, which is why I think it is such a versatile food. Usually I always cook rolled oats, or sometimes instant, if I'm in a rush.
One of the types of oats I never tried is steel cut oats. The generous people at Bob's Red Mill sent me a bag of their Organic Steel Cut Oats, and so this was my first opportunity to try them!  🙂
But what are steel cut oats? According to Bob's Red Mill, "Organic Steel-Cut Oats are freshly milled from high protein oats and cut into neat little pieces on a steel buhr mill. Steel Cut Oats are one of the healthiest foods you can eat and they make a delightful, full-bodied hot cereal with an appealing texture."
One of the first things I noticed was the size of the oats. I'm used to rolled oats, and the size of the Steel Cut Oats were much smaller. They were cut into very tiny pieces, and almost resembled chopped nuts.
The preparation was easy, I boiled some water with salt, and then added the steel cut oats. It suggests letting it simmer with a cover on for 10-20 minutes, so I waited 15 minutes at first. I looked at them at the 15 minute mark and decided to wait another 5, as I thought they could use a little more time.
Once I thought they were done, a little over 20 minutes, I put them in a bowl. They weren't as thick or creamy as when I make homemade rolled oats on the stovetop, but had more of the consistency when I make instant oatmeal with the boiling water. They had a chewy texture, with some soft and hard pieces, rather than just all soft (what I'm used to with cooked rolled oats). However, I kind of liked it! I think it's a nice change from my usual. I sprinkled some sugar and gave some to my aunt, who enjoyed it. She said "it's very good" and even went back for seconds!
Overall, I give it 4 stars. While I do like the change in texture and consistency, I don't like how it takes a bit longer to cook than my usual stovetop rolled oats or instant. However, I think I could probably make these the night before, or make them on a day when I can have a leisurely breakfast, rather than when I have to rush. I love that they provide fiber, protein, and are low in fat.
1/4 cup is 170 calories, 3 grams of fat, 29 carbohydrates, 5 grams of fiber, 0 grams of sugar, and 7 grams of protein.
Organic Whole Grain Oats.