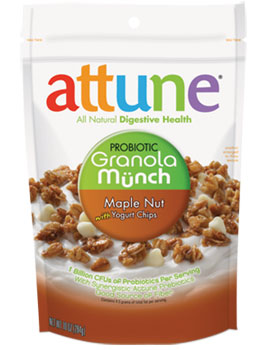 Probiotics- I know I eat these in my yogurt everyday. But ever think of having them in granola?
Well, Attune makes a probiotic granola called Probiotic Granola Munch that comes in 3 flavors- Chocolate, Maple Nut, and Apple Cinnamon. According to the website, "Think granola, only better. We blend high fiber whole grains and bake them into crunchy clusters. We then add Attune probiotic yogurt chips or chocolate chips and prebiotics which help good bacteria thrive in your gut. Enjoy Münch by the handful, mixed with yogurt or with milk as a tasty all natural way to keep your digestive system healthy everyday."
So, the nice folks at Attune asked if I wanted to try a bag, and I opted for the Maple Nut variety. Of course, it was hard to choose, all three sound SO GOOD!!
Once I got my bag in the mail, I opened it up. The Maple Nut flavor has pecans and yogurt chips, but looks like oats for the most part in the bag. I think mine may have melted a little bit one the way to my house, because instead of yogurt chips, I sort of had yogurt chunks. Either way, it was absolutely DELICIOUS! Honestly, this is one of the best granolas I have ever eaten. The yogurt chips tasted like a sweet, white chocolate with hints of vanilla, almost tasting like vanilla frosting. The oats were crunchy with a nice maple syrup flavor, that was both sweet and buttery tasting. I definetely agree with the "Munch" aspect- I could munch on this granola all day long!!
Overall, this gets 4 1/2 stars. The only reason it doesn't get 5 stars is because you don't get too much for one serving, only 1 oz. I also really didn't taste much of a pecan flavor, which I was a bit upset about because pecans are on of my favorite nuts! Otherwise, this is a winner in my eyes. I like that it only had 6 grams of sugar per serving, provided 3 grams of fiber per serving, and had probiotics! If I see it in stores, I will probably buy it! 🙂
1 serving, 1 oz., is 120 calories, 4.5 grams of fat, 20 carbohydrates, 3 grams of fiber, 6 grams of sugar, and 2 grams of protein.
Rolled oats, brown sugar, yogurt flavored chips (sugar, palm kernel and palm oil, skim milk powder, yogurt powder, demineralized whey, soya lecithin [an emulsifier], lactic acid powder, vanilla extract, salt, freeze-dried lactobacillus acidophilus [a probiotic]), soybean oil, high fiber brown rice crisps (rice flour, rice bran, rosemary extract), fructan (a dietary fiber), chopped pecans, natural flavors, dextrin (soluble fiber), salt, caramel color, rebaudioside a (stevia).