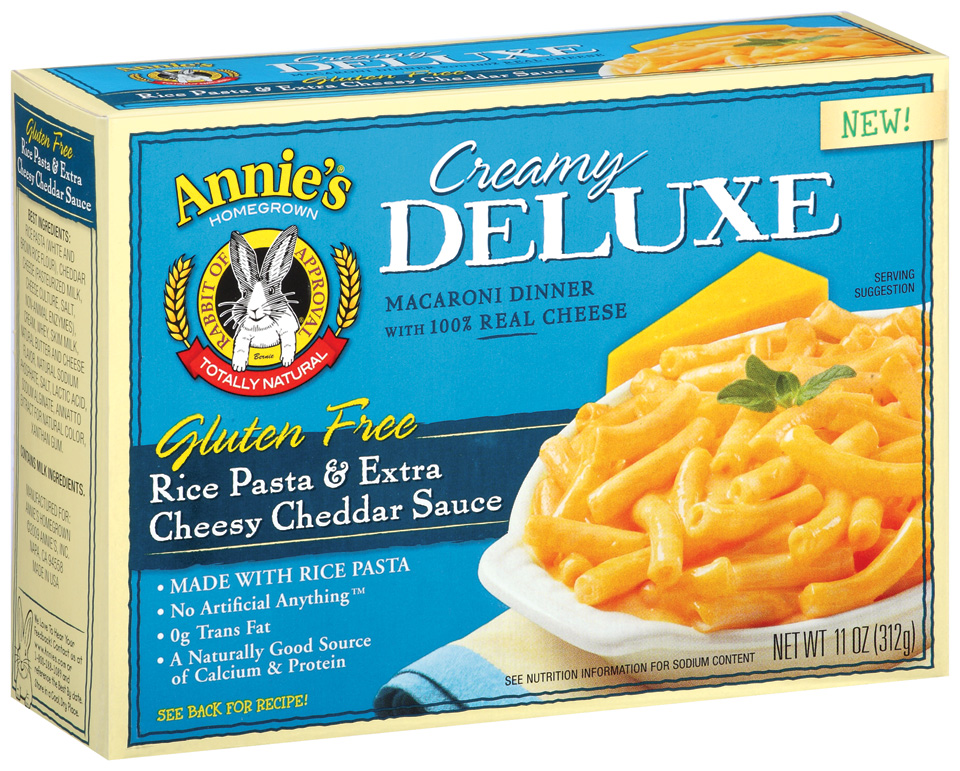 Mac & Cheese! Normally I'm not a pasta person. Spaghetti? Ravioli? Nah, I'll have rice or bread instead. But, Mac & Cheese has always really been my one exception. Something about the cheesy sauce and the tender noodles that I love!
Well, to add to my Mac & Cheese enjoyment, I had the opportunity to try Annie's Homegrown Gluten Free Rice Pasta & Extra Cheesy Cheddar Sauce. Annie's Homegrown generously sent me 2 boxes of this stuff, and I couldn't have been happier. I especially like mac & cheese when it has the creamy cheese sauce rather than the cheese powder when I have to add milk & butter as well, I find the cheese sauce varieties to always be more tasty!
Some things to point out is that this pasta is gluten free, and is rice pasta. I never had a gluten free mac & cheese before, so this was certainly new for me. According to the front of the box, this product has "No Artificial Anything, 0g Trans Fat, A Naturally Good Source of Calcium & Protein". Sounds good to me!
I looked at the nutrition information, and saw that this product was relatively low in fat, only 4 grams per serving prepared. I also noticed the sodium was a bit high, 680 mg per serving prepared, and this product also had 63 carbohydrates per 1 cup prepared! I know pasta has carbohydrates, but I felt this was higher than what I was used to.
So, I boiled the water and then added the pasta. I cooked it for about 10-11 minutes, but I prefer my pasta tender. After draining I noticed how long and tubular the noodles were! I liked how long they were- it was fun! 🙂
I stirred the cheese sauce in, and noticed how nicely it adhered to the noodles- a good sign. I don't like when the noodles and cheese sauce to mix well, but that wasn't the case here! The noodles & cheese sauce thickened up quite nicely as well. I put some on my plate and gave it a taste- not bad! It has a mild cheddar cheese taste, not too salty, either. The noodles were perfect, just the right amount of tenderness, and not chewy at all. My brother tried some, and he said it was "cheesy", and seemed to enjoy it as well.
Overall, I give this pasta 4 stars. I do wish it tasted a bit more saltier, as I feel as if that would have brought out a stronger cheese flavor. I do like, however, how the pasta and cheese sauce thickened up so nicely, and how it was low in fat. I think this is a GREAT option for those who cannot have gluten, or for anyone, really! I couldn't tell the difference between having rice pasta as compared to what I normally have, which is wheat/ whole wheat.
1 serving, about 1 cup prepared, is 320 calories, 4 grams of fat, 63 carbohydrates, 2 grams of fiber, 2 grams of sugar and 8 grams of protein.
Rice Pasta (white and brown rice flour), Cheddar Cheese (pasteurized milk, cheese culture, salt, non-animal enzymes), Cream, Whey, Skim Milk, Natural Butter and Cheese Flavor, Natural Sodium Phosphate, Salt, Lactic Acid, Sodium Alginate, Annatto Extract for Natural Color, Xanthan Gum.