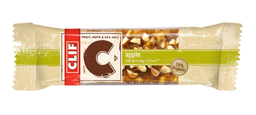 Clif Bar & Company is one of my go-to brands for bars, because they have a lot to offer, are made with good ingredients, and most importantly, are tasty!
The generous folks over at Clif Bar & Company sent me some of their Clif C-Bars to try, which are basically fruit & nut bars. According to the website, they provide 1 serving of fruit per bar, are all natural, and are 70% organic! They come in 4 flavors, Apple, Blueberry, Raspberry and Cherry Pomegranate. I tried all of them so far except the Cherry Pomegranate, which I was also sent but didn't eat yet.
The bars seem small, about the size of the Clif Kid Z Bars, but I found them to actually be just the right size. Because the flavors are very powerful and pretty sweet, I felt that a bigger bar was not needed. I also liked that these bars stated they were "Low Glycemic" and that "low glycemic foods digest slowly for prolonged levels of satiation and energy". I also find, as a type 1 Diabetic, my blood sugar levels do not raise as quickly when I eat low glycemic foods as compared to higher glycemic foods.
Apple- this one was the first bar I tried, and was I HAPPY. Just SO. GOOD. It was soft, gooey and rich. It was sweet with just a hint of cinnamon flavor, and had a "fudge"-like consistency. I agree with what the website says that  "This bar tastes like homemade apple pie", because it CERTAINLY  reminded me of the sweet, delicious insides of an apple pie ! 5 stars
Raspberry- This bar wasn't as sweet as I had expected. It had more pieces of nuts on top than the Apple flavor did, and overall ahd a very light raspberry flavor, with a mix of apple flavors as well. It was good, however, dipped in some chocolate nut butter 🙂 3 1/2 stars
Blueberry- very soft, moist and chewy, and quite good. A nice blend of blueberry and apple flavors, it was sweet and delicious. It kind of reminded me of if there was such a thing as a "blueberry brownie", this would be it! Not that it tasted chocolatey, but it was chewy and moist like a brownie usually is. 4 1/2 stars
Overall, these are yummy! I definitely reccommend giving them a try! I really like how they are 70% organic, provide 1 fruit serving per bar, and are made without a ton of ingredients! I think these would be perfect for a snack on the go, or even with a nice sandwich for lunch. The only let down in my opinion, was the nut topping. It didn't really provide too much flavor, or crunch for that matter for the bar. However, that won't stop me from buying these again 🙂
Nutritional Information & Ingredients Listed Below for APPLE flavor, for information about the rest of the bars, you can visit here.
1 bar is 130 calories, 4.5 grams of fat, 25 grams of carbohydrates, 4 grams of fiber, 17 grams of sugar, and 2 grams of protein.
Organic Dates, Almonds, Organic Apples, Macadamia Nuts, Organic Apple Juice Concentrate, Organic Cinnamon, Sea Salt (Real Salt®), Natural Vitamin E (Antioxidant).