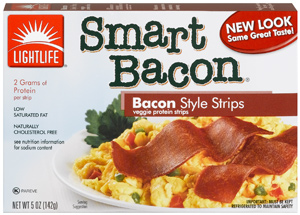 Are you a fan of…..bacon ? When I was younger, I never was much of a bacon eater, but I DID like turkey bacon. I remember always having it with french toast and maple syrup, or even on a BLT sandwich. Delicious!
However,  I don't really eat meat anymore, so decided these would fit my craving for bacon.  I picked these up at the store with a coupon for a free product that I was sent from LightLife.
According to the website, "Whether nestled up against some scrambled eggs or topping off a burger, Smart Bacon® brings that hearty bacon taste into the veggie world. Plus, being low in saturated fat and naturally cholesterol-free, meat isn't the only thing it's missing."
These are also vegan.
Each strip of Smart Bacon is a pale red/brown in color, thin, and about an inch wide, maybe 3 inches long. Each piece is only 20 calories each, and provides 2 grams of protein. I sprayed my pan with some non-stick cooking spray and cooked these strips over medium heat (and made french toast, on the side, of course!) until the edges got crispy. They didn't really get 'curly' or 'wavy' like I remember bacon usually gets, but stayed rather flat. They did however get crispy edges, which I liked.
I took a bite, and was actually quite impressed! They actually really reminded me of turkey bacon! I felt like I was having a real treat on the side of my french toast and maple syrup, and my glass of orange juice- these Smart Bacon strips went just PERFECT! They were crispy, but still had a little bit of chew to them, and had a lot of flavor. They were, however, a bit on the salty side, but dunked in my maple syrup I certainly loved the salty sweet combination! 🙂
Overall, I give these Smart Bacon strips 4 1/2 stars. I can certainly see myself buying these in the future- they were enjoyable and tasted GOOD! I especially liked that each strip was only 20 calories- I could have FIVE Smart Bacon strips for only 100 calories, with 10 grams of protein! They are, however, a bit salty ( 140 mg per strip) but not too bad.
1 Smart Bacon strip is 20 calories, 1 gram of fat, 0 grams of carbohydrates, 0 grams of sugar, 0 grams of fiber, and 2 grams of protein.
Water, soy protein isolate, wheat gluten, soybean oil, texured soy protein concentrate, textured wheat gluten, less than 2% of: natural smoke flavor, natural flavor (from vegetable sources), grill flavor (from sunflower oil), carageenan, evaporated cane juice, paprika oleoresin (for flavor and color), potassium chloride, sesame oil, fermented rice flour, tapioca dextrin, citric acid, salt.