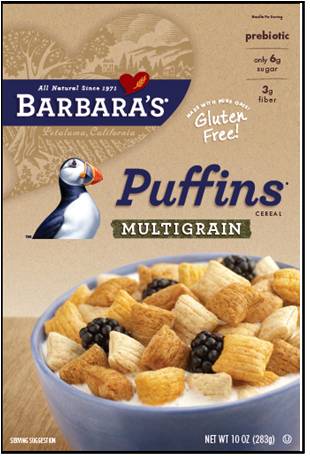 Barbara's Bakery is a great company that makes an assortment of products, such as cereals, granola bars and other yummy snacks. They are also having a makeover! The generous folks at Barbara's Bakery sent me some cereals to try (and a cute beanie puffin! (one of which one of YOU has a chance to win!!)) and some information about their makeover. According to the letter I was sent, "Barbara's makeover celebrates 40 years of natural food heritage with four new delicious cereals and a completely new sustainable carton design.
Barbara's proudly debuts three new High Fiber cereals, each offering at least 40 percent of daily fiber needs and 50 percent whole grains, as well as Multigrain Puffins, the newest addition to the popular Puffins cereal line, with gluten free and Prebiotic NutraFlora health benefits.
Starting in Fall 2010, all Barbara's cereals come in 100% recycled, sustainable GreenChoice cartons (North America's only certified recycled paperboard). Barbara's products aren't only good for the body, but they're good for the environment, too!"
 I think that's great!  Barbara's Bakery products seem just awesome! In addition to Barbara's Bakery having a makeover, they are also running the Barbara's Natural Makeover Contest. If interested you can find out more information about that here.
Now, onto the reviews! (and then the giveaway!)
Shredded Oats Original- ooh these are pretty good! Square in shape, they are crunchy and slightly sweet. They are thick little squares, and have a "sweet" oaty taste. I think they were perfect dry- a good snacking cereal! 4 stars
Puffins Original- also delicious! I thought I wasn't going to like these seeing as they are low in sugar (and I have a bit of a sweet-tooth 😉 ) but they are actually really good! They are brown in color, have a rougher texture, but are still crunchy. They are very lightly sweet, and remind me of a slightly sweet crunchy piece of toast. Also a good snacking cereal, but I also had them with cottage cheese and enjoyed the crunch they provided. I also LOVE that these are only 90 calories per serving! 4 stars
Gluten Free Puffins Multigrain- yet again, I love the CRUNCH that these provide! They came in three different shades of color, a darker brown, and orangey color, and a yellow. In my opinion, the darker brown was the least sweet, and the yellow squares were the sweetest of the 3. Yet, all together, they were not overly sweet, but very good. I enjoyed these with yogurt & fruit  4 stars
Shredded Minis Blueberry Burst- yum, yum, YUM! My favorite of the samples I was sent, these were EXCELLENT! A combination of brown and light blue colored squares, the light blue squares had a sweet, real blueberry taste. They sort of had a 'coating' of a crunchy blueberry flavor, which really was tasty. I also liked that in the little bag I got (40 grams), there were a lot of squares to munch on! I also liked the fact that there was added calcium. 4 1/2 stars
Overall, I really enjoyed these, and can definetely see myself buying some in the future. I loved the ingredients, the crunch, and the nutrition they all provided. Hooray for Barbara's Bakery! For more information about ingredients & nutrition, please click here.
Now, onto the GIVEAWAY!
Would you like to win your very own Beanie Puffin? I was sent one from Barbara's Bakery, and you have a chance to win one too! It's a cute stuffed animal, that resembles this little Puffin I found off of Barbara's Bakery website.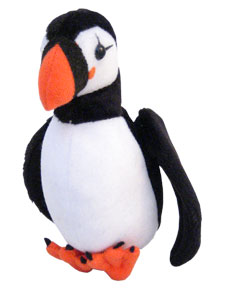 HOW CUTE!!!
How to enter-
1.Complete the Mandatory Question and leave a comment below for ONE entry.
(Optional)
2. Complete the additional questions/tasks for additional entries. Please leave a comment for each!
1. (MANDATORY)- What is your favorite cereal by Barbara's Bakery? If you never had Barbara's Bakery cereals, which cereal would you like to try OR what is your favorite cereal in general?
(OPTIONAL)
2. Add me to your blog roll/ follow me! (1 additional entry)
3. Link this post to your blog/website! (2 additional entries!)
4. Tweet about this giveaway! (1 additional entry!)

Contest is open to U.S. citizens only, and will end FRIDAY, July 16th, 12 pm.