*Before the review begins, don't forget about the Giveaway!* Enter for a chance to win a CUTE stuffed Beanie Puffin, courtesy of Barbara's Bakery!* 🙂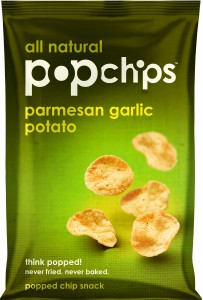 I've had and reviewed some Popchips before- they are a tasty, healthier option when it comes to potato chips in my opinion. My favorites that they have are the Cheddar, Barbeque, and Sour Cream & Onion. What's great about these chips is that they are relatively low in fat, but still VERY tasty, as well as being all natural.
As an addition to the flavors I have already reviewed, Popchips also generously sent me the Parmesan Garlic Potato Chips.  These sound awesome to me. I'm not normally a cheese person, but one of the cheese I do enjoy is Parmesan. Something about the salty and delicious flavor it provides makes it truly enjoyable for me.
So today I "popped" open a bag of Parmesan Garlic Popchips (ha-ha) with my lunch as I was in the mood for something savory and crunchy. What I love about these 100 calorie bags is they really are the perfect portion for me. Great as an addition to lunch, or even as a light snack. Plus, you actually get a decent amount in each bag! I tried one of the chips, and, Woo!  I DEFINITELY tasted the parmesan and garlic! Two very strong flavors that went so well together. I don't think I have ever eaten a chip with these kinds of flavors put together. The parmesan was nice and salty and tasted great with the zesty garlic. These chips were also lightly coated with what I believe was little specks of parsley. I really enjoyed these, but I do recommend having a drink nearby! They went great with my lunch, and a nice ice cold glass of iced tea. Yum!
Overall, Popchips do not disappoint. These get 4 1/2 stars in my eyes, and are some seriously tasty chips. I honestly considered going to the store after lunch to get more, so I could eat them later on in the week! 🙂
1 bag (23 grams) is 100 calories, 3.5 grams of fat, 16 carbohydrates, 1 gram of fiber, 1 gram of sugar and 1 gram of protein.
Natural Potato Ingredients (potatoe flour, potato starch), Safflower Oil and/or Sunflower Oil, Seasoning (maltodextrin, roasted garlic powder [garlic powder, sunflower oil, salt, corn starch, sugar, dextrose, natural flavor] salt, natural parmesan cheese flavor, natural flavors [includes salt, autolyzed yeast extract, arabic gum, natural flavor] crystalline fructose, modified food starch, olive oil, parsley), Rice Flour, Salt, Soy Lecithin (processing aid).