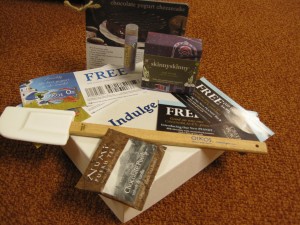 Oh yes. It's a GIVEAWAY. And, it involves CHOCOLATE!!!!
Hopefully you have all heard of the Oikos Chocolate & Caramel greek yogurts, that are 110 calories each and are absolutely delicious. If not, I have tried and done a review of them here.
And if you HAVEN'T tried those yogurts, you can enter for your chance to win coupons for 2 free multi-packs, and MORE!
Well, I got an e-mail from Miss Bicchieri over at Stonyfield Farm, and they are hosting an "Organic Chocolate Indulgence" giveaway. From the e-mail I was sent, the giveaway includes…
"–    1 coupon for a free Green & Black Organic Chocolate Bar
–    1 sample of Numi Organic Chocolate tea
–    1 Dagoba/Eco Lips Organic Chocolate chapstick
–    1 Skinnyskinny real cocoa organic soap bar
–    2 free coupons for Chocolate and Caramel Oikos multipacks
–    Recipe card set featuring Chocolate Cheesecake, as well Oikos spatula"
Ok. That, sounds, AWESOME! Especially if you are a fan of chocolate! 🙂
So how do you enter?
Well…
mandatory:
Watch a YoTube video on this website and leave me a comment about something you learned. For example, the e-mail suggested making a comment about organic farming, or organics in general.
Additional Entries:
2. *2 extra entries*  Blog about this giveaway! Please leave a link to your post on your website/blog.
3.*1 extra entry* Tweet about this giveaway!
4.*1 extra entry* Add me to your blogroll/follow me/follow me on Twitter (link is under ABOUT ME page)!
*Contest Open to U.S. residents only. Please leave a comment for EACH entry!* Contest ends WEDNESDAY, July 21st 2010 12PM.