*Last few days to enter the "Organic Chocolate Indulgence" Giveaway!* 🙂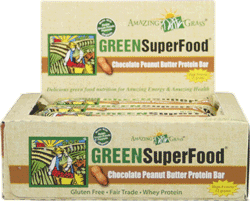 After a workout, there's a few things I crave. Protein, to fuel my hard worked muscles, something sweet, to reward myself for a hard workout, and something healthy, to treat the body good and give it what it deserves. So, what better way to indulge after the gym than with an all natural Amazing Grass GREEN SuperFood Chocolate Peanut Butter Protein Bar? 🙂
Amazing Grass sent me some products to try, and one of them was the GREEN SuperFood Chocolate Peanut Butter Protein Bar. Combining two of my favorite things, chocolate and peanut butter, I certainly was excited for this.
This bar is all natural, gluten free, and according to the wrapper, made with organic peanuts, dates and green foods. According to the website, "We've taken our alkalizing Green SuperFood, with antioxidant rich fruits and vegetables and combined them in a bar that will satisfy your hunger and deliver nutrients to your body the way Mother Nature intended…unprocessed, organic and delicious."
So I opened up the bar, and certainly was happy. It looked like a chocolate covered bar, and pretty thick too. I took a bite, and was actually quite surprised. The chocolate on top was smooth and sweet, I actually thought it was milk chocolate but the ingredients say it's a "Dark Chocolate Coating". The inside of the bar is, well, GREEN! They weren't kidding about the "GREEN" part! I didn't really taste too much peanut butter flavor, more like just a hint of peanut, but what I really tasted was a fruity flavor. It almost reminded me of chocolate covered raisins- but in bar form. It was tasty, though! Definitely a dense and chewy bar, it provided a sweet and slightly salty taste that certainly satisfied.
Overall, I give it 3 1/2 stars. It certainly was satisfying, and I liked the chocolatey coating on the outside. I really liked that it was made with organic ingredients, and contained the Green SuperFoods! However, I do wish it had more of a peanut butter taste, and slightly less fat per bar. Otherwise, I think it's a great treat after the gym, or anytime!
Hey, if you want to buy these or other Amazing Grass products for yourself, you can click on the picture below!! 🙂
1 bar is 270 calories, 14 grams of fat, 28 grams of carbohydrates, 3 grams of fiber, 19 grams of sugar, and 12 grams of protein.
Organic Peanut Butter, Organic Agave Nectar, Organic Dates, Whey Protein Concentrate, Organic Peanuts, Organic Rice Crisps, Amazing Grass Green SuperFood (Organic Wheat Grass, Organic Barley Grass, Organic Alfalfa, Organic Spirulina, Organic Spinach, Organic Chlorella, Organic Broccoli, Organic Acai, Organic Maca, Organic Carrot, Organic Beet, Raspberry, Organic Rose Hips, Pineapple, Green Tea, Organic Flax Lignans, L. Adidophilus, Alpha and Beta Amylase, Protease, Lipase, Lactase, Cellulase, Organic Peppermint), Natural Flavor, Peanut Extract, Organic Vanilla Extract, Sea Salt
Organic Dark Chocolate Coating: Cane Sugar, Unsweetened Chocolate, Cocoa Butter, Non-GMO Soy Lecithin, Natural Vanilla Flavor