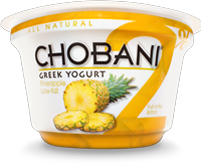 Chobani 2% Pineapple Greek Yogurt is now one of my new favorite flavors of greek yogurt.
Chobani sent me some samples to try, including the 2% Pineapple Greek Yogurt. At first, I was a little skeptical. Why 2%? Why not fat free? I mean, this yogurt was 160 calories with 2 grams of saturated fat! But now I know! I really COULD taste the difference between a 0% Chobani and a 2% Chobani. Although both are delicious in my opinion, this yogurt was truly something special.
One of the freshest, and creamiest tasting yogurts I have ever had. The pineapple part in my yogurt was actually not just on the bottom, but I experienced pineapple flavor throughout the entire yogurt. It was a sweet pineapple, that was throughly enjoyable. The yogurt itself was creamy and thick, and I could actually taste the cream. So. Good. I think the next time I get this yogurt I might freeze it a little bit, sort of like pineapple frozen yogurt!
Overall, need I say it? 5 stars ! This yogurt is all natural, gluten free, and high in protein. Although it does have 2 grams of saturated fat per yogurt, it's just too delicious to pass up.
*What's your favorite Chobani flavor?? If you'd like to answer, leave a comment below!  : )
1 yogurt is 160 calories, 2.5 grams of fat, 21 carbohydrates, 18 grams of sugar, 0 grams of fiber and 13 grams of protein.
Cultured Pasteurized Nonfat Milk, Cream, Pineapple, Evaporated Cane Juice, Pineapple Concentrate, Pectin, Locust Bean Gum, Natural Flavor, Turmeric (for color).