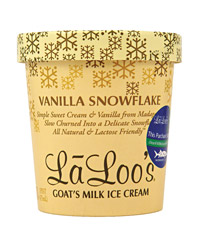 Okay, so the term "Goat's Milk Ice Cream" may not sound appealing. But please, hear me out 🙂
I was a little skeptical at first myself, but I decided, why not? Laloo's sent me some coupons to try some free goat's milk icecream, so I picked up a container of the Vanilla Snowflake. This icecream is all natural, and according to the container is also lactose friendly!
I opened up the container, and it was a pale yellow in color, sort of reminded me of the color of custard. When I took a scoop with my spoon I just knew this was going to be good. As I dug my spoon in, the ice cream was easily removable- it was super soft and velvetty in texture. I took a bite, and was amazed at this flavor. Where have you been all my life!  I thought. This stuff was SERIOUSLY good!
It was super creamy and rich, and had that melt-in-my-mouth consistency. Just absolutely perfect in my opinion. I'm not even normally a fan of vanilla- I usually opt for strawberry ice cream/frozen yogurt, or chocolate, or cookie dough! I normally find vanilla rather bland, but that is SO not the case here! It was perfectly sweet and had a lovely vanilla flavor. I think Laloo's named this ice cream perfectly with "Vanilla Snowflake".
This product clearly gets 5 stars– it does contain sugar, 14 grams per 1/2 cup, but it truly is a treat. I really like that it has minimal ingredients, provides such awesome flavor, and has 5 grams of protein per 1/2 cup serving. I would be perfectly happy eating all 4 servings in one sitting if it wasn't for the 14 grams of sugar and 3 grams of saturated fat per serving. So, I guess I'll have to save it for a treat (or just help myself to a spoonful every day and make it last longer! : )  )
1 serving, 1/2 cup, is 140 calories, 6 grams of fat, 18 carbohydrates, 0 grams of fiber, 14 grams of sugar, and 5 grams of protein.
Goat Milk, Sugar, Egg Yolks, Pure Vanilla, Locust Bean Gum, Guar Gum, Carrageenan