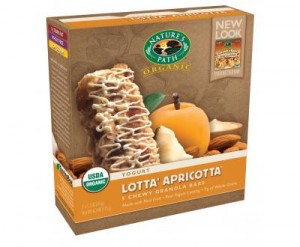 Nature's Path is one of my favorite brands when it comes to snacks, cereals, oatmeals, etc. I love that their products are made with wholesome, real ingredients. To me, Nature's Path seems like a company that really cares about the food they make.
I was sent some granola bars to try from the people at Nature's Path, including the Yogurt Lotta' Apricotta and Yogurt Berry Strawberry Chewy Granola Bars. How could it get better than this? Organic, yogurt covered, whole grains, all in one? : )
Each bar is chewy and actually some-what dense. What I liked was that these had good "holding power"- meaning to me that they didn't  fall apart SUPER easy, which I find can happen with hewy-type granola bars. They were still soft, of course, but held together quite nicely.
Lotta' Apricotta– wow! What flavor! Quite unexpected and a unique flavor, but really tasty. It had a sticky texture, with a fruit, sweet apricot flavor. There was also a slight coconut flavor that I tasted which complimented the apricot flavor quite well. There was a light, yogurt drizzle that tasted like vanilla icing, and little chunks of almonds that also added a nice touch. Yum! 4 1/2 stars
Berry Strawberry- Also an awesome flavor! I liked that I could smell strawberry flavors as I opened my bar. This one was also very chewy and sweet with visible tiny flaxseeds. The strawberry flavor was really good- not too tart, but almost reminded me of what strawbery fruit leathers taste like. The yogurt drizzle also was really good- a light vanilla flavor that went very well with the strawberry flavors. 4 stars
Overall, these are really tasty! I love that they are organic and provide some whole grains per bar. I think I will use these as a pre-workout snack or maybe as a light breakfast on the go with some yogurt and fruit, as they are a little short on protein and fiber for me to be eaten alone. I definitely recommend these- very tasty, and worth giving a try!
Lotta' Apricotta- 1 bar is 140 calories, 5 grams of fat, 23 grams of carbohydrates,12 grams of sugar, 2 grams of fiber, and 2 grams of protein.
Berry Strawberry-1 bar is 140 calories, 3.5 grams of fat, 25 grams of carbohydrates, 11 grams of sugar, 2 grams of fiber, and 2 grams of protein.
For ingredient information and more, you can visit here.