* Please don't forget the newly posted  UNCLE SAM CEREAL GIVEAWAY *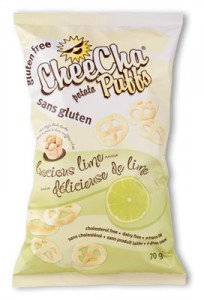 Here's something totally new for me! CheeCha Potato Puffs! I don't really know exactly what a CheeCha is, but, I DO know that these potato puffs I was generously sent from CheeCha are quite tasty!
I was sent some flavors to try, including the Luscious Lime, Original Potato,  and Sea Salt & Vinegar flavors of CheeCha Potato Puffs.  According to the website, "All CheeCha Puffs begin with wholesome potato flour and potato starch. They are air puffed to keep the natural potato flavour, then lightly misted with sunflower oil and sprinkled with the finest seasonings."
Each of these CheeCha Potato Puffs are gluten free, round in shape, and sort of look like a wheel or a peace sign to me! They are very airy, light and crispy, and provide such a satisfying crunch! I also really like that they aren't greasy at ALL- I love snacks that are crunchy and tasty, and not oily!
Sea Salt & Vinegar– whew! I can CERTAINLY taste the vinegar! Tart and bitter, and a rather strong vinegar flavor. It almost makes me cringe when I ate one, and yet, I kept eating them! These are also quite salty, but crunchy and actually quite good. Especially if you like the taste of vinegar! 3 1/2 stars
Luscious Lime– Okay, now I LIKE these. SO unexpected! They are tangy, yet sweet, and just really delicious! At first it's a sweet and tangy lime flavor, followed by a more mellow, potato flavor. These came in handy when I felt like snacking on something. : ) 4 1/2 stars
Original Potato- These reminded me of regular potato chips, yet were smooth and not really salty tasting. I think these would be better to dip into something, say cheese or salsa, rather than eaten alone. But I loved the potato flavor! 3 1/2 stars
The nutritional facts below are for the LUSCIOUS LIME flavor (my favorite of the 3!)
2 cups (20 grams) is 90 calories, 3 grams of fat, 15 grams of carbohydrates, 1 gram of fiber, 4 grams of sugar, and 1 gram of protein.
Potato Flour, Potato Starch, Sunflower Oil, Sugar, Salt and Lime Flavor.