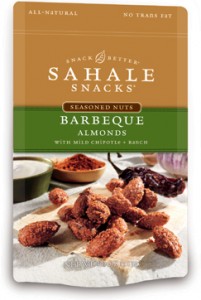 Ah, nothing quite helps me when I'm hungry than a handful of nuts- peanuts, almonds, pecans! Something about them are just so filling and satisfying, and truly enjoyable.
Well, if I'm going to have some almonds, I might as well have some FLAVORED almonds! : )  Sahale Snacks was very generous, and sent me some of their products to try, including the Barbeque Almonds. (You can find these in a 2oz. size at Starbuck's!)  These almonds are all natural, and according to the package, "Our Barbeque Almonds are seasoned with a proprietary 'Dry Rub' spice blend and accented with tangy buttermilk ranch. Then, they're slow roasted to a smoky, spicy-sweet perfection."
I was actually quite excited for these- I AM a fan of barbeque flavored chips- I love the flavor and find them so irresistably good! So how do these almonds live up?
🙂
They are decently sized almonds that are coated in a reddish seasoning with a bumpy texture. The first thought that came into my mind as I tried these were both spicy and salty tasting. Then, after the initial heat wore off a little bit, I found that I actually kind of liked them! The almonds were crunchy  and were a really good nut to pair with a barbeque flavor. These had just the SLIGHTEST aftertaste of sweetness, and were mostly spicy in my opinion. I could certainly taste the chipotle pepper and chili pepper ! They were not SUPER spicy, but I definitely could feel the heat!
Overall, these were pretty good. I sort of wish they had more of a sweet taste, like honey flavor, as I prefer barbeque flavored things to be both slightly spicy and a bit sweet. However, I think if you like spicy things, and are a fan of barbeque (especially those spicy barbeque sauces!) you will enjoy these. I also liked that they had 3 grams of fiber and 5 grams of protein per 27-gram serving! I'm giving them 4 stars.
1/4 cup (27 grams) is 140 calories, 11 grams of fat, 8 grams of carbohydrates, 3 grams of fiber, 3 grams of sugar and 5 grams of protein.
Almonds, Barbeque Seasoning (salt, smoked paprika, chili pepper, spices, onion, molasses powder, garlic), Organic Evaporated Cane Juice, Organic Tapioca Syrup, Sea Salt, Dried Buttermilk (buttermilk, whey solids), Tomato Powder, Chipotle Pepper.