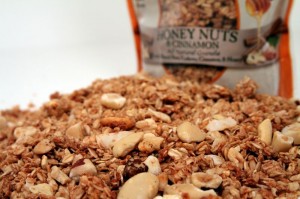 I'm in the mood for cereal reviews lately! And today? New England Naturals Honey Nuts & Cinnamon Granola!
One of the foods I love to eat is cereal. By itself, with milk, with yogurt, etc. I also ESPECIALLY love granola! I find it super flavorful, crunchy and tasty.
New England Naturals sent me some of their granolas to try, including the Honey Nuts & Cinnamon Granola. According to the front of this package, there are "Brazil Nuts, Cashews, Cinnamon & Honey" in this granola.  Sounds good to me! I loooove cashews, and cinnamon & honey are always a pleasure! 🙂
Looking at the bag, I liked that there was an area where you could actually see the granola. It looked like big clusters of oats, and big pieces of both brazil nuts and cashews. I opened up the bag, and this smells AMAZING! Very fresh cinnamon flavor and just a hint of honey.
As for the taste? The granola itself wasn't as crunchy as I had hoped, but more chewy. It really wasn't that sweet, but had a good cinnamon and a light coconut flavor. It also had a toasted flavor, like it was baked in the oven. The brazil nuts were great- crunchy and fresh. And the cashews had a rather plain taste- as if they weren't toasted.
Overall, I give this 3 1/2 stars. I do wish it was a bit sweeter, and had more of a honey flavor. I did like that there was a light coconut flavor, and that it had a GREAT cinnamon flavor. However, a 1/2 cup serving is 270 calories and 12 grams of fat, which is a little bit much for a granola gal like me 🙂
**What's your favorite type of granola? If you'd like to answer, please leave a comment below!***
1/2 cup (60 g) is 270 calories, 12 grams of fat, 35 grams of carbohydrates, 4 grams of fiber, 11 grams of sugar, and 7 grams of protein.
Whole Rolled Oats, Honey, Expeller Pressed Canola Oil, Cashewes, Brazil Nuts, Dairy Whey  Powder, Coconut, Cinnamon.