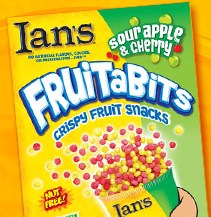 I have to say, I'm a fan of fruit snacks. Fruit leathers, gummie fruit snacks, etc., I just love things that are sweet and fruity!
Something new for me to try, Ian's Natural Foods sent me the FruitaBits Crispy Fruit Snacks in Sour Apple & Cherry, and Berry Cherry flavors. At first I thought huh? Crispy Fruit Snacks? But then, I was actually quite surprised and pleased!
Each package contains tiny little balls that are airy, and well, like the package says, "crispy"! Also according to the package, these are "made with real fruit!", are "Nut Free!" and are an  "excellent source of vitamin C!". I was glad that they were made with real fruit, including they were supposed to be fruit snacks. =)
I opened the Berry Cherry version first. WHEW! This one had a very strong sour cherry smell to it. The balls or pieces were almost a purpleish red in color. I tasted some, and I actually kind of liked it. They were crunchy and sweet, and have both strawberry and berry flavors. Yummy!
Next up, the Sour Apple & Cherry flavor. These had red and yellow pieces, which actually surprised me, I was sort of expecting green for an apple flavor. Anyway- these had a nice blend of sour flavor and sweet flavor. Neither too overpowering, but actually quite tasty.
Overall, I give these 4 stars. While they are tasty, they don't have any fiber and have 1 gram of saturated fat for a .75oz package. But, I do like that they are crunchy and sweet, and they sort of remind me of a fruity-type cereal.
.75 oz is 85 calories, 1 gram of fat, 18 grams of carbohydrates, 0 grams of fiber, 9 grams of sugar, and 1 gram of protein.