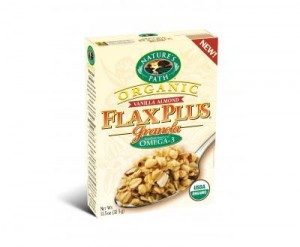 GRANOLA! One of my favorite things to eat (which if you are an avid read, I'm sure you know that already! 🙂 ).
So today's granola review is Nature's Path Organic Vanilla Almond Flax Plus Granola, sent to me generously from the people at Nature's Path! : )
So I opened up the bag, and discovered a lot of rolled oats, a good amount of tiny flaxseeds, and little slivers of almonds. This looks pretty good! I took a handful and discovered that this granola had a light vanilla flavor. Really quite light actually. I sort of wish that it had a deeper vanilla flavor, as I certainly am a fan of vanilla! I also discovered that it had a very mild sweetness- so I did actually wish it was a little bit sweeter as well.
What I did like about this cereal was that according to the box, it was an "excellent source of Omega-3" and "Contains 0.9 g of Omega 3 per serving, which is 69% of the reccommended daily value of 1.3 g". That's really awesome! I know sometimes it's hard for me to get all of my daily reccomended value of Omega 3's, so this may be a good option for me!
Overall, this cereal gets 3 stars. I also did like that a serving is 3/4 of a cup, and that it had 5 grams of fiber per serving. Woo-hoo! : )
3/4 cup is 250 calories, 9 grams of fat, 36 grams of carbohydrates, 10 grams of sugar, and 6 grams of protein.
Organic rolled oats, organic evaporated cane juice, organic soy oil, organic brown rice flour, organic flaxseed, organic almonds, organic oat syrup solids (organic oat syrup solids, tocopherols), natural vanilla flavor, sea salt, organic molasses.