HappyBaby/YoBaby giveaway ends Friday!**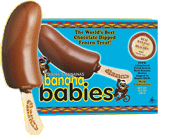 Bananas, and chocolate? What a great combination. Now what about a frozen banana, covered with chocolate? COUNT ME IN! =)
The nice folks over at Diana's Bananas sent me some of their chocolate covered bananas to try. The Banana Babies come in 3 varieties, Milk Chocolate, Dark Chocolate, and Milk Chocolate with Peanuts. Today I'm doing a review of the Milk Chocolate Banana Babies.
I opened up the box of Milk Chocolate Banana Babies and thought these are so cute! Each of them are about the size of half of a banana, with a thick layer of milk chocolate. The chocolate was sweet and creamy- melt-in-my-mouth consistency. Delicious! The banana part was sweet and soft, perfectly ripened, and went perfectly with the chocolate. Who knew a fruit could taste so awesome covered in chocolate?
One thing I did notice was that it was VERY hard coming out of my freezer. I let mine thaw a little bit, and found it much easier to enjoy. Overall, I give this 4 stars as it's delicious, and a great way to get some chocolate and fruit, all at once! The perfect treat for me on a hot, summer day! =)
1 Piece (60grams) is 130 calories, 6 grams of fat, 18 grams of carbohydrates, 1 gram of fiber, 14 grams of sugar, and 2 grams of protein.
Banana, Milk Chocolate (unsweetened chocolate, sugar, milk powder, cocoa butter, soy lecithin, vanilla), Peanut Oil.