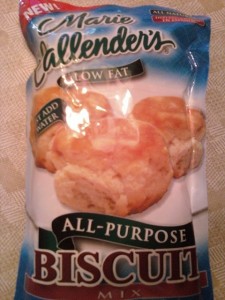 Oh, yea. BISCUITS!
The people over at Marie Callender's offered me to try some of their new mixes, like the All-Purpose Biscuit Mix. And the verdict? I'm sure glad I got to try them!
First off, these were really easy preparation. All I needed was a bowl, a spoon, the mix, and 1/3 cup plus 1 tablespoon of water (and a pan with some non-stick spray to bake them on!).
The mix was beige and crumbly in color. After adding the water, I ended up adding just a little bit more to make it easier to stir. I noticed these sort of lumps that were there, sort of like flakes, that I had to stir a little extra to get smoother. The dough became very sticky and pasty, and sort of reminded me of the cheese in a mozzarella cheese stick how it was sort of gooey when I transferred the batter from the spoon to the pan.
Here's what they looked like after I scooped them on the pan.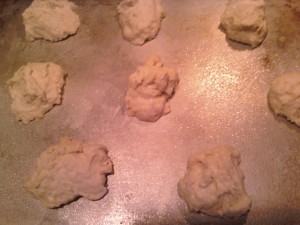 While cooking, they smelled DELICIOUS. The bottom of the mix bag says "Restaurant Style" and I thought the same from the smell- I felt like I was sitting in a restaurant!
Here's what they looked like after baking!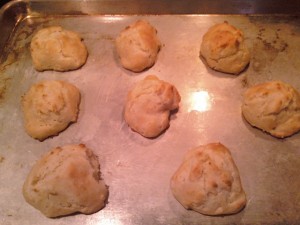 So what about the taste? DELICIOUS!! Even as is, with nothing on them! Fluffy and doughy, slightly salty, and just like a biscuit should taste. The back of the bag said to "serve warm with butter, honey or preserves", so since I was having these with my dinner, I opted for a little butter. Divine!
Overall? These get 4 1/2 stars! I love how the mix makes 8 biscuits- I think that's perfect for a family dinner! I also love that 1 biscuit (1/4 cup dry mix)  is only 100 calories! I was a little disappointed that there was no fiber per serving, but these were really good. I would certainly eat them again- I'm tempted to maybe add cinnamon and sugar if I ever make them again!
Do you like biscuits? What's your favorite way to eat them? (and does anyone else spell biscuit with a q like bisquit? It was so hard for me to write this because I kept writing bisquit the whole time!!) If you'd like to answer, please leave a comment below! =)
1/4 cup dry mix (25g) is 100 calories, 3 grams of fat, 17 grams of carbohydrates, 0 fiber, 1 gram of sugar, and 2 grams of protein.
Unbleached Enriched Wheat Flour (niacin, iron, thiamin, mononitrate, riboflavin, and folic acid), Palm Oil, Canola Oil (ascorbic acid and rosemary added to preserve freshness), Dextrose, Baking Soda (sodium bicarbonate/leavinging), Sodium Acid Pyrophosphate (leavening), Sea Salt, Buttermilk Powder, Natural Flavor, Monocalcium Phosphate (leavening).